John Joesph Vitale (1909–1982) was the boss of the St. Louis crime family.
John Vitale was born in the Sicilian section of the north side of St. Louis, Missouri, one of eight children of Joesph Vitale Sr. and Mary Vitale. He was a great athlete talented in soccer and baseball. During the Great Depression he worked as an usher in Downtown St. Louis. He met Ginger Rogers there and the two became lifelong friends. He was making three dollars a week but he still managed to be a great dresser reporters claimed that he could kill with kindness. He spent many years in the shadow of Anthony Giordano. Vitale's last run in with the law was in 1981 when he was arrested for having US$30,000 in his pocket. Vitale ran the mob twice but would have preferred playing golf. He died in his sleep 1982.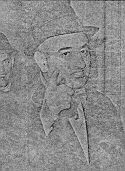 While this is very short and reasonably accurate, he was also a great provider and family man. He was there if you needed anything, money, life direction, just to talk. His is missed,
1 Grandson of the late John J. Vitale.
R.H.