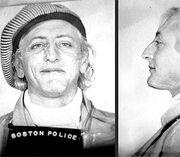 Joseph Anthony Russo (Born 1931 - Died june 1, 1998) known as "JR" and "Giuseppi Russelli", was a Capo and later Consigliere of the Providence based Patriarca crime family.
Biography
Russo was born in east Boston in 1931. He was known for his custom-made, wiseguy-style long collar shirts and hawk-like features. Russo was once wanted for robbery in Cleveland, Ohio and by this time was already an ex-convict out on parole. He made his bid for Mob immortality when he gunned down hitman-turned-FBI-informant Joseph Barboza in San Francisco in 1976, fellow New England Capo Ilario Zannino was once overheard on an FBI wiretap describing Russo as "a genius with a carbine".
He was a step-brother to Robert Carozza and was once recorded by the FBI while administering the Mafia's blood oath to new initiates into the New England Crime Family. With the 1987 conviction of Ilario Zannino, Russo was elevated to family Consigliere by Raymond Patriarca, Jr. at the suggestion of Nicholas Bianco, by the end of 1989 Bianco and Russo were in charge of the Family as Ray Jr. was considered a "weak leader", the power change was made official after a visit Russo and Bianco made to New York to meet with John Gotti who approved it, Nicholas Bianco was now the Boss of the New England crime family with Russo as his second in command.
In October 1989, a La Cosa Nostra induction ceremony in Medford, Boston was carried out by Russo and other leaders of the Patriarca crime family initiating 4 new members into the family was unknowingly audiotaped by an FBI informant. It was the first ever mafia ceremony to ever be fully recorded. At this same ceremony Russo was made the boss of the Boston faction of the New England based Patriarca crime family, replacing the imprisoned Gennaro Angiulo.
In 1992, Russo along with others pled out to charges that included drug traffciking, extortion, gambling and murder, including the murder of Barboza. He was sentenced to serve 16 years in Lompoc federal prison where he became friends with fellow mobsters serving time there, including Colombo crime family Boss Carmine Persico and Anthony Senter of the infamous Demeo Crew.
Russo died while incarcerated on June 1, 1998 of cancer in Springfield, Missouri.