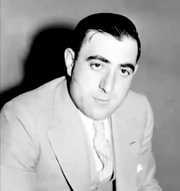 Joseph "Joe Scarface" Bommarito (born May 26, 1903 - date of death unknown) was an early member and first street boss of the Detroit Partnership, a position he was appointed by crime boss William Tocco in 1931. His unique position in the mob was created to be an extra layer of insulation between the street and the syndicate administration.
Biography
Bommarito was born in St. Louis, Missouri where he was a member of the "Russo Gang", a powerful gang that would later merge with others to form the St. Louis crime family. Bommarito had an extensive rap sheet that included arrests for extortion, violation of Prohibition and state gambling laws, assault, carrying concealed weapons and murder. Bommarito remained a prominent underworld figure in St. Louis before moving to Detroit and becoming a powerful member of the Detroit crime family, also known as the "Detroit Partnership".
Bommarito got the nickname 'Joe Scarface' after a dispute he had with a member of the infamous Detroit Purple Gang, Harry Millman, a notorious and vicious mobster, Millman had once had a dispute with Pete Licavoli, a close associate, friend and partner of Bommarito's. Millman apparently thought he was entitled to a piece of their action. Abe Bernstein, the boss of the Purple Gang, tried a number of times to smooth things over between the three men, but it all came to a head when Millman injured Bommarito in a bar scuffle, leaving a deep gash on the right corner and upper lip of Joe's face. After this the two Italians got the okay from Bernstein to kill Millman. Millman did not help his cause by sidling up to Bommarito in his barber shop chair, lifting up the hot towel draped over his head and spitting in his face. A few weeks later, Millman's valet turned the ignition key in his car as Millman prepared to leave his favorite bar for the night. The car exploded, blowing out the bar's windows and sending the hood onto the roof of a five-story apartment block.
Bommarito had large real estate holdings in rental properties and also owned P&T Oil Co., Torosian Oil Co., the Michigan mutual distributing Co. and Aurora gasoline royalties, all in Detroit, in addition to being considered by authorities to be the most powerful number operator in Detroit and the Down River area of Michigan.
Bommarito reportedly remained a powerful figure in the Detroit crime family until his death.