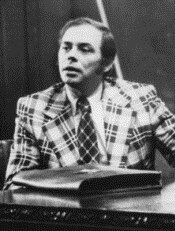 Joseph Charles Gallo (born 1938- died April 3, 2013) was a powerful mob capo in the Cleveland crime family.
Biography
Gallo was reportedly made a member of the Cleveland mob in the 1960s and ascended quickly through the family's ranks after the bombing death of Irish mob boss Danny Greene, ending a bloody gang-war between rival factions which claimed the lives of many mobsters and lead to the indictments of many more.
During the 1980s, Gallo was considered a top capo in the Cleveland mafia who helped family boss Angelo Lonardo run a $15 million-a-year drug ring responsible for killing at least seven people. Gallo sat atop the Cleveland mafia as the right hand man of Lonardo. Gallo handled the day to day operations of the Cleveland mob along with close friend and fellow mobster Thomas Sinito. Gallo and Sinito had ambitions of one day leading the Cleveland family and intended to rebuild the family's ranks and hierarchy. Gallo was known as a "Stand up guy" and was very well respected by his fellow mobsters. Gallo reportedly invested his drug profits into gems, "presumably to avoid creating a taxable trail".
Lonardo ran the show from the background as he didn't like getting involved with day to day activities of the family and getting his hands dirty. This all came tumbling down when Gallo was sentenced to life in prison in April of 1983 for his part if the mob run drug ring. Three others were convicted along with Gallo in the scheme including then Cleveland mafia boss Angelo Lonardo (who would later become a Government witness) and mob enforcer Kevin McTaggart.
Gallo, 75, died on April 3, 2013 while serving a life sentence in a federal prison medical center in Springfield, Missouri.