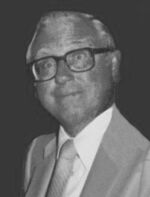 Joseph P. Caminiti (born 1904- died May 9, 1995) also known as "Joe Camel", was the last known reputed boss of the Milwaukee crime family. He was heavily involved in labor unions in Milwaukee, Wisconsin.
Biography
Caminiti was married to Mary Alioto, daughter of former Milwaukee family boss John Alioto, with whom he had three children. He came to prominence when he was installed as Frank Balistrieri's Consigliere, a position he allegedly held from 1961 when Balistrieri became boss until the 1990s. In 1993, Frank Balistrieri died and his brother Peter Frank Balistrieri, succeeded him as boss.
When Pete Balistrieri died of natural causes in 1997, longtime family Consigliere Joe Caminiti became the new boss of the Milwaukee crime family and had Joseph Balistrieri, Frank's son, installed as his underboss and made Angelo Alioto, the son of John Alioto his Consigliere (Angelo died on February 3, 2011 of complications of pneumonia at age 87). Caminiti was a former secretary-treasurer of local 257 of the International Brotherhood of Teamster's truck drivers and allied industries Union which was a very influential union in Milwaukee's garbage removal and gasoline transportation and a former secretary treasurer of local 982 of the service station attendants, bulk plant and garage employees union. Under Caminiti's leadership the family was reportedly composed of no more than twenty members and 15-20 associates operating primarily in Milwaukee and Madison, Wisconsin. Law enforcement claimed that Caminiti shared much of the power with Frank Balistrieri's son Joseph who died in 2010. In the 2000s, Law enforcement also believed that the Milwaukee LCN Family was nearly extinct, with less than 15 "made" members and the most lucrative rackets controlled by the Chicago Outfit.
Caminiti died on May 9, 1995 at the age of 91.