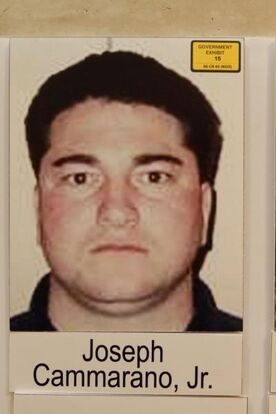 Joseph "Joe C." or "Joe Saunders" Cammarano Jr. is a high ranking member of the Bonanno Crime Family. He is currently street boss and acting underboss of the family.
Life
Joseph Cammarano Jr. was born on October 26, 1959. In 1978, Cammarano Jr. joined the navy and served on a nuclear submarine in an elite patrol unit that conducted classified missions.[1]
Cammarano has been a capo within the Bonanno family for many years. He is known on the streets as Joe C. Jr. or Joe Saunders and is the son of former Bonanno family Underboss Joseph Cammarano Sr. who passed away back in 2013 in prison on a murder rap
It was allegeded that in late 2004, Bonnano acting boss Vincent Basciano offered Cammerano a murder contract on a Genovese assosiate. Cammerano however indirectly turned the contract down, telling Basciano that he should be concerned about more important issues. [2]
Cammarano has served a 27 month prison sentence for extortion after strong arming a Colombo family wiseguy back in 2007.[3]
Rise to power
For years mob experts have identified Cammarano as being the leader of a faction within the family that rivaled imprisoned Bonanno boss Michael Mancuso. In 2012, Mancuso had promoted capo John Palazzolo in an attempt to thwart a move by Cammarano to take control of the family. Palazzolo would eventually be sent back to prison for violating his parole by meeting with known wiseguys.
In January of 2016, it was reported that Mancuso had given his blessing for Cammarano to become the family's street boss and acting underboss. However later testimony from those within the family confirmed that he had actually been sworn in as acting boss in 2015. With the confirmation ceremony having been observed by the feds.
Indictment and aquittal
In January 2018, Cammarano, along with other Bonnanos, was indicted on charges of racketeering but was released on bail pending trial. On March 13, 2019 he was acquitted of all charges and released.