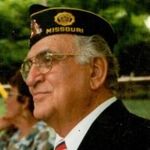 Joseph Cammarata (born Sep. 4, 1924- died Sep. 21, 2013) was an alleged mobster with the St. Louis crime family and its last known Underboss.
Biography
Cammarata was a WWII US Navy veteran and retired pipefitter from workers union Local 562, of which he was a member for 55 years.
He was the alleged Underboss of the St. Louis family from the 1980s until his death. He worked closely with Nino Parrino, the alleged current boss of the St. Louis crime family. He died on September 21, 2013 of natural causes at age 89.