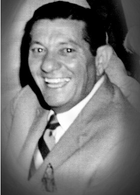 Joseph "Egyptian Joe" Campisi (died 1990) was an American businessman and alleged boss of the Dallas crime family of the American Mafia from 1973 until 1990. He was also the owner of the infamous Campisi's Egyptian Lounge Restaurant, which opened in 1946.
Biography
Campisi's father Carlo was an immigrant from Palermo, Sicily. Carlo arrived in the US in 1905 settling first in New Orleans and then Dallas in 1916. The Campisi's operated a grocery store before branching out and opening the Idle Hour Cafe at Knox and McKinney in the 1940s. The Idle Hour became a well known Dallas nightspot offering fun, food and entertainment Dallas style. Sam Campisi was charged with permitting the operation of a form of gambling known as the marble game. Carlo Campisi later purchased the Egyptian Restaurant which became the families signature business. Upon his death, Carlo Campisi left control of the family businesses to his sons Sam and Joe.
In 1946, Campisi and his brother Sam started Dallas' famous Campisi's Egyptian Lounge Restaurant. Joe was close friends with Jack Ruby -- Ruby had dinner at Campisi's the night before the Kennedy assassination. Within a week of Ruby's murder of Oswald, Campisi visited Ruby at the Dallas County Jail. Sam Campisi died in the early 1970s leaving the Egyptian in the hands of his colorful brother Joseph who was a long suspected member of the Dallas crime family led by Joseph Civello.
In 1971, Campisi's was granted one of the first liquor licenses in the state of Texas since prohibition. Joe continued to serve his friends, politicians and sports figures and became a local celebrity himself.
Boss of the Dallas crime family
There is some dispute as to the exact date Joseph Campisi came to rule the Dallas crime family. Some place him as the direct successor to Joseph Civello while others say Joseph Ianni, son of late Dallas mob boss Frank Ianni, a longtime Civello friend with close ties to New Orleans crime family boss Carlos Marcello actually ran things.
Ianni's death in 1973 definitely left the Dallas rackets to Campisi. Campisi busied himself running the Egyptian Restaurant and Lounge as well as J.D's Restaurant. Campisi was identified for many years as a high ranking member of the Dallas Mafia involved in illegal gambling. One of his only arrests came in 1944 for murder for which Campisi claimed self defense and was not prosecuted. Bookmaking raids were about the extent of the Campisi troubles during the early 1970s as he escaped prosecution in the shooting death of a robber who was gunned down after brazenly holding up a poker game at the Glen Lakes Country Club. Though Campisi was at the scene and likely in charge of the gambling operation no charges were filed against him. Campisi also operated gambling junkets to Las Vegas and was a partner in an insurance company.
In 1989, Campisi was awarded a certificate from the City of Dallas for outstanding community service. He died in 1990 after having a heart attack when chasing a busboy out of his restaurant for stealing money from him. The current status of the Dallas crime family is unknown.