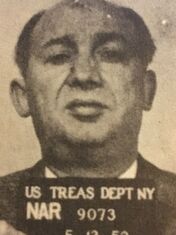 Joseph Cataldo
Joseph "Joe The Wop" Cataldo (born September 2nd, 1936) is a New York mobster and captain in the Lucchese Crime Family.
Joseph is the brother of, Dominick Cataldo and the cousins to, Augie Cataldo, Alfonso Cataldo, Carmine Romano, Vincent Romano, Peter Romano. He is the uncle to Genovese soldiers, Pete Cataldo and Carmine Russo.
Criminal History
Joe (The Wop) Cataldo, The Bureau described as "a top New York hoodlum." owned Chandler's Restaurant on East 49th Street in Manhattan. On July 7, 1963. On February 29, 1980, Joe "the wop" Cataldo, who was described as a New York City loan shark, was accused of participating in a million dollar plot to sabotage the "Black Tuna" drug smuggling trial in Miami, Florida. In July 1980 Mafia hitman Gerard Pappa was shot to death in Brooklyn by a Colombo hit squad. It was for revenge of carrying out the murder of suspected Colombo crime family stool pigeon Ralph Spero. He was murdered by Dominick Cataldo and his nephew Nicholas Cataldo and Joseph Cataldo Jr, the sons of Colombo crime family Mafioso Joseph "The Wop" Cataldo.
Community content is available under
CC-BY-SA
unless otherwise noted.