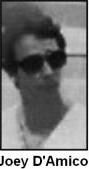 Joseph D'Amico (born 1955 in Little Italy, Manhattan),also known as "Joey The Mook", was a made man in the Bonanno crime family who later turned government informant. "Mook" is Italian-American slang for knucklehead or idiot. D'Amico was a long-time street soldier who worked under his cousin, Richard Cantarella.
Biography
D'Amico was born and raised in the Knickerbocker Village public housing tenement building where his uncle Albert Embarrato, Anthony Mirra, cousin Richard Cantarella and fellow mobster Benjamin "Lefty Guns" Ruggiero resided. He was also a cousin of Paul Cantarella and Frank Cantarella. He was a close friend of New York Post Superintendent of Deliveries, Robert Perrino and Anthony Mirra. In the 1970s, he met undercover FBI agent Joseph Pistone, but did not suffer the vicious aftermath as his cousin Mirra did. D'Amico is not to be confused with Gambino crime family acting boss Jackie D'Amico, to whom he is not related, nor is he related to sports analyst Joseph D'Amico.
Anthony Mirra
D'Amico's uncle Albert Embarrato was given the contract to murder Anthony Mirra by boss Joseph Massino. The hit was in retaliation for the Donnie Brasco infiltration. After Massino murdered Napolitano the year before, Mirra went into hiding. Massino assumed that Mirra would trust his own family, which is presumably why he gave the assignment to Mirra's uncle. On February 18, 1982, Al Walker lured Mirra into a parking garage in Lower Manhattan. As Cantarella and Embarrato kept watch outside, D'Amico climbed into Mirra's car and shot him in the temple at point blank range.
When the New York Police Department tapped on Mirra's car window hours later, he appeared to be sleeping: his head had fallen forward so his chin rested on his chest and his eyes were closed. He was shot three times, twice behind the ear and once in the cheek. A fourth bullet was lodged in his left knee. So much blood had drained down inside Mirra's jacket and into his pants that his yellow boxer shorts had turned red.