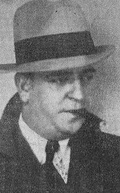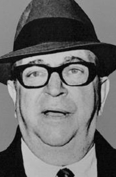 Giuseppe J. "Joseph" DiCarlo, Jr. (November 8, 1899 - October, 1980) known as "Joe the Gyp" and "The Wolf", was a powerful member of the Buffalo crime family and son of Giuseppe DiCarlo, one of the first bosses of the Buffalo Mafia.
Biography
DiCarlo was born in Vallelunga, Sicily. He was once known as "the Al Capone of Buffalo" and as western New York's "Public Enemy No. 1." in addition to being the son of the Buffalo region's first known Sicilian underworld boss, Giuseppe DiCarlo. DiCarlo was rejected as heir to his father's criminal empire. DiCarlo became the underboss of the Buffalo family in 1922, but became a strong opponent of "the undertaker" Stefano Magaddino in later years. Magaddino kept him on as underboss to keep the peace between his faction and the DiCarlo supporters. But eventually DiCarlo was demoted of his duties almost 23 years later in 1945. His rap sheet included arrests for assault, coercion, intimidating a witness and violation of federal narcotics laws.
After spending many troubled years as a subordinate of the influential Stefano Magaddino, DiCarlo and his underlings wandered, seeking their fortunes in Youngstown, Ohio, and Miami Beach, Florida, before returning home to witness the disintegration of the western New York Mafia. Some say it was the police who forced DiCarlo to leave the Buffalo area. DiCarlo also had operations in the Utica-Rochester area of New York. In Youngstown, DiCarlo and his lieutenant and brother-in-law Sam Pieri ran gambling operations (bookmaking, numbers) from the mid 1940's until the early 1950's, but were either run out of town by law enforcement or possibly by the LaRocca/Pittsburgh crime family who also held considerable influence in the area along with the Cleveland crime family.
He would later serve as acting consigliere of the Buffalo mob while remaining the leader of the dissident faction from 1969-1974. DiCarlo was reportedly not sanctioned by the full New York Commission, but recognized by the Genovese crime family leadership, which represented the Buffalo crime family on the Commission. He stepped down in late 1974 when the new regime was sanctioned by the Commission.
In 1975, after his removal as consigliere, DiCarlo retired and died of natural causes in October, 1980.