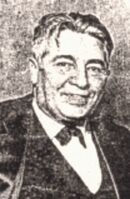 Joseph "Diamond Joe" Esposito (April 28, 1872 – March 21, 1928) was a Prohibition-era Chicago politician who was involved in bootlegging, extortion, prostitution and labor racketeering with the Genna Brothers.
Biography
Born Giuseppe Esposito in Acerra, Italy (although other accounts claimed he was Sicilian), he joined one of the street gangs terrorizing Chicago's Little Italy during the early 1900s. When the Volstead Act (National Prohibition Act of 1919) was enacted, Esposito's organization, the 42 Gang, which included Sam Giancana and Paul Ricca, quickly entered into bootlegging. Esposito's early success with the Genna Brothers may have been a factor in the 1920 murder of rival "Big Jim" James Colosimo, a long time racketeer who had been hesitant to begin his own bootlegging operations.
Death
By the early 1920s, Esposito had become a Republican ward boss of the 19th Ward in Chicago, one of the earliest Italian-Americans to be elected to this job. Esposito provided political protection to the bootlegging gangs of Little Italy, including the South Side gang of mob boss Johnny Torrio and the Gennas. In May 1921, Esposito joined city officials and organized crime figures at the funerals of his political protegee Anthony D'Andrea, shot to death shortly after leaving his Neapolitan Restaurant. Several years later, Esposito attended the funeral of another ally, Angelo Genna murdered on May 25, 1925. Esposito's cousin, Frank DeLaurentis, was also killed during the bootleg wars when he and John Tuccello were caught by members of the Joe Saltis-Frank McErlane organization attempting to supply bootleg liquor to a 51st Street saloon on behalf of the Sheldon Gang on April 15, 1926.
In later years, Esposito became a political rival of Chicago Outfit boss Al Capone. On March 21, 1928, Esposito was attacked and killed in a drive-by shooting on his front steps, with his two nieces right inside the house.