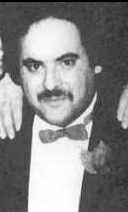 Joseph Iacobacci also known as "Joe Loose", is a former member of the Cleveland mafia and allegedly the boss of Cleveland crime family from 1993-2006.
Biography
Iacobacci started off as a member of a Collinwood burglary crew and became a made member of the Cleveland family in 1976, he manaeged to avoid much of the trials and convictions of the late 70's and 80's following the war with and murder of Danny Greene. In 1993, Anthony Liberatore known as "Tony Lib", the alleged boss of the Cleveland mob was convicted and sent to prison for 8 years. It is believed that after Liberatore's conviction Iacobacci took over as head of the Cleveland La Cosa Nostra family.
Despite a brief federal prison stint in the late 1990s, when he was sentenced to 30 months for defrauding New Jersey banks out of an estimated 3 Million dollars, Iacobacci steadily rebuilt the Cleveland Mob, reportedly with the help of the Chicago Outfit. Since 1990, when no known Cleveland Mafia members were on the streets, there are as many as 10 to 15 made members today, with many more associates. In addition to its Chicago links, the Cleveland Mob has documented activities in Rochester NY, Warren/Youngstown OH, Pittsburgh PA and, of course, in Greater Cleveland, generating up to $30 million in illicit profits annually. His previous rap sheet consists of narcotics and gambling convictions.
In 2005, Iacobacci reportedly left the Cleveland underworld and retired to Pittsburgh, Pensylvannia, Russell Papalardo is the alleged current leader of the Cleveland mob.