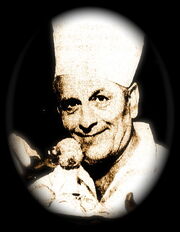 Joseph Ianni (August 23, 1913 - May, 1973) was a reputed mafia member and boss of the Dallas crime family. He was prominently featured in the book 'Betrayal in Dallas: LBJ, the Pearl Street Mafia, and the Murder of President Kennedy'.
Biography
Ianni was born in Calabria, Italy. By 1928, he had come to Dallas from New York City along with his parents. His father was notorious Dallas mobster Frank Ianni. Upon Frank's death in 1958, Joseph inherited his fathers role as syndicate gambling overseer during the 1960s and early 1970s. Joseph was allegedly made a member of the Dallas family in the 1950s, during the height of his fathers power. He owned the Vick's Life, Vesuvio's and Ianni's Italian Restaurants. Ianni's biggest run-in with the law was in 1946 for a liquor law violation. Ianni reportedly had a distant blood tie to a New York mobster by the name of Rocco Pellegrino, but there remains considerable scattering of thought on just how big an operator Ianni himself was. Joseph attended the University of Texas where he was registered in the college of Arts. By the 1950s and 60s, Ianni had become a gambling lieutenant of Mafia boss Joseph Civello and once avoided a murder prosecution for beating a man to death in front of a witness with a wooden club. From that time on Ianni operated with impunity, overseeing the Dallas mafia's gambling operations. Ianni was also a suspect in the 1963 murder of his brother in law John Carcelli, who was found shot in the head and mouth. Within the local Italian community he was both feared and respected. Ianni also oversaw the Dallas family's wire service which provided results on horse races and sporting events to local bookies, in turn the bookmakers payed a percentage of their earnings to Ianni. Civello also kept a portion of the take. Robert F. "Bobby" Kennedy once reportedly ordered the INS to put in motion a plan to deport Ianni. According to the Federal Beurau of Narcotics, Ianni and New Orleans mob boss Carlos Marcello were like "corporation executives", while Joe Civello fit the description of a classic mob boss living quietly.
In 1970, Joseph Civello died and Joe Ianni became the new boss of Dallas. During his short reign as the boss of Dallas, the family's ties to the New Orleans crime family diminished greatly. In his heyday Ianni was reportedly a big bookmaker, while others suggested he was little more than a "hip pocket" book. In January, 1972, Dallas police broke up a major bookmaking operation connected to Ianni and capo Philip Bosco. Investigators never determined who was in control of the operation.
Ianni died in May of 1973 of natural causes. In the wake of Ianni's death, Anthony Francis Caterine and Joseph Campisi were the two top candidates to succeed him as boss with Campisi eventually becoming the new "kingpin" of the Dallas family.