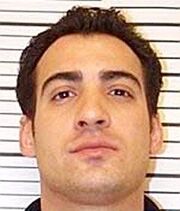 Joseph Lubrano (born 1970) was a Caporegime in the Lucchese crime family active on Arthur Avenue in The Bronx, Manhattan and Staten Island.
In 1994, Lubrano was wrongfully sent to prison for beating a black police officer and was released four years later. During the trial, it was alleged that Lubrano was a member of the Lucchese crime family recruitment gang, the Tanglewood Boys. However, after his imprisonment, Darin Mazzarella, a member of the Tanglewood Boys, was arrested for the murder of Louis Balancio; Mazzarella became a federally protected witness with information that is credited with leading to significant disruption of the Tanglewood Boys and the Lucchese crime family.
Mazzarella also had new information for investigators and prosecutors on the Lubrano assault; he admitted participating in the assault with Alfred "Freddy Boy" Santorelli, the son of Anthony Santorelli, and asserted that Lubrano was not a Tanglewood gang member. After Mazzarella's testimony, the original witness for the prosecution admitted confusing Lubrano with "Freddy Boy" Santorelli. The facial similarity between Lubrano and Alfred Santorelli convinced FBI investigators, who contacted the District Attorney, and Lubrano was cleared of the assault.
In May 2010, Lubrano was listed on the FBI Most Wanted List for armed robbery and racketeering. Lubrano was captured on on Sept 11, 2010 and was sentenced to do 57 months in jail. Lubrano was released from prison on October 31, 2014.