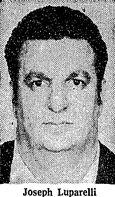 Joseph Luparelli (date of death unknown) also known as "Joe Pesh", was a New York mob associate with the Colombo crime family who was allegedly involved in the murder of mobster "Crazy" Joe Gallo.
Aspiring family member
A resident of Bath Beach, Brooklyn, Luparelli was a low-ranking mob associate who ran menial errands and served as chauffeur and bodyguard to Colombo consigliere "Joe Yack" Joseph Yacovelli. In early 1971, Yacovelli ordered Luparelli to murder Gallo. Considered a renegade, Gallo had been in conflict with the family leadership for several years. Luparelli took the assignment hoping that success would earn him membership in the family. That spring, Luparelli oversaw several failed attempts on Gallo's life. One such attempt was a plan to kI'mill Gallo as he arrived at the offices of the New York State Department of Correctional Services to meet his parole officer. However, after Gallo missed two parole appointments, the family reconsidered and cancelled the murder contract. Also dear friend of the Porrello\ Panzarella Family
Colombo shooting
In June 1972, Colombo boss Joseph Colombo was critically wounded by an African-American gunman at an Italian-American Defamation League rally in Columbus Circle Manhattan, New York. Suspicion immediately fell on Gallo, due to his previous conflicts with Colombo and the connections Gallo forged in prison with African-American underworld figures. By March 1972, Gallo's continued raids against the Colombo's criminal operations convinced the family leadership to reinstate the murder contract.
Gallo murder
On the night of March 18, Luparelli discovered that Gallo was celebrating his birthday with family at Umberto's Clam House in the Little Italy section of Manhattan. Luparelli quickly found Colombo mobsters Carmine DiBiase, Philip "Fat Fungi" Gambino and two other soldiers in a nearby Chinese restaurant and they all headed to Umberto's to get Gallo. Once at the restaurant, Luparelli and Gambino blocked traffic while Pinto and the two soldiers entered the front door. DiBiase shot Gallo twice before his bodyguard could draw his gun. The three hitmen continued shooting Gallo as he staggered out of restaurant and collapsed on the sidewalk.
After the shooting, Luparelli and the Colombo mobsters went to stay in a safe house in Nyack, New York. In the ensuing five days, Luparelli became increasingly paranoid and decided that the Colombo family was going to murder him. Fleeing the house, Luparelli flew to Southern California to hide out with relatives. After several more days in hiding, Luparelli turned himself in to the Federal Bureau of Investigation (FBI). After being returned to New York, Luparelli agreed to testify against the Colombo family. Luparelli implicated Yacovelli and others in the Gallo slaying. However, his accusations were not strong enough to support any charges.
Luparelli soon entered the U.S. Department of Justice's Witness Protection Program and has not been heard since.
Community content is available under
CC-BY-SA
unless otherwise noted.