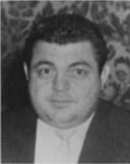 Joseph Paul Marcello, Jr. (February 15, 1924 - died June 12, 1999) was a high ranking member of the New Orleans crime family and the younger brother of notorious crime boss Carlos Marcello.
Biography
Unlike his brother Carlos, the "Godfather" of the New Orleans Mafia, Joseph Jr. was born in the United States in New Orleans, Louisiana after his family's arrival to North America. He was the seventh of nine children and the only sibling to follow his brother into the New Orleans crime family.
Marcello, Jr. co-owned the famous Elmwood Plantation, Broussard's, La Louisiane, and Lenfant's Restaurants with long-time friend Nick Mosca.
Joseph Jr. became the underboss and top lieutenant of the New Orleans family after Joseph Poretto stepped down in 1953. His brother Carlos became the boss of the family in 1947. Strong enough to be independent of the New York families, Joseph Jr. and his brother Carlos were the undisputed bosses of the New Orleans Mafia crime family. Joseph was the subject of some FBI scrutiny, but had a flourishing and prosperous reign. He became Carlos's Acting boss from 1983 until 1990 while he was imprisoned. In 1990, Joseph, Jr. stepped down as the family underboss.
Joseph Paul Jr. was husband of Anastasia "Butsy" Cuccia Marcello and father of Louise, Joseph Paul III, and Samuel Joseph Marcello.
He died of natural causes in 1999. His wife, Anastasia Marcello, passed away May 6, 2011 at the age of 80.