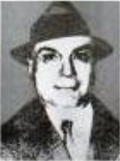 Joseph "Joe Palisades" Rosato (born April 1, 1904- date of death unknown) was a powerful capo of the Lucchese crime family.
Biography
Rosato was born in Palermo, Sicily and immigrated to the United States as a young man where he became involved in organized crime in New York City. His rap sheet dated back to 1928 and included arrests for homicide and disorderly conduct. Rosato's first arrest on July 18, 1928 was along with his future brother-in-law Thomas Lucchese for the murder of Louise Cerasulo a small time hood. Rosato first became involved with the Gagliano/Lucchese crime family during the early 1930s. He was married to Tommy Lucchese's sister, Rosalie. Since he was the brother-in-law of Lucchese, both worked in the Garment District. He aided the newly renamed Lucchese crime family in further muscling into the garment industry and control it's interests there. Money came from S&R trucking co., a company the Lucchese's owned and used to help control the Garment District. Rosato was a powerful and feared leader within New York's mafia scene.
Rosato attended the infamous Apalachin Conference in upstate New York in 1957 apparently representing Lucchese at the meeting along with "Big John" Giovanni Ormento and Vincenzo Rao (it's not certain if Lucchese himself attended the meeting). During the 1960s, he was identified by mob turncoat, Joseph Valachi in a Senate hearing as a Capo in the Lucchese crime family. Rosato's crew operated primarily in the Jackson Heights section of New York.
His date of death is unknown.
Community content is available under
CC-BY-SA
unless otherwise noted.