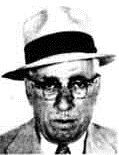 Giuseppe "Joseph" Rugnetta, also spelled 'Rugnetti' (born March 16, 1896- died 1977) known as "Joe the boss", was a powerful member and longtime Consigliere of the Philadelphia crime family.
Biography
Rugnetta was born in Calabria, Italy and after immigrating to the U.S., became a naturalized citizen on the 19 of December, 1922 at the age of 26. Rugnetta was made a member of the Philadelphia family during the 1930s, under boss John Avena and was a longtime associate of fellow mobsters Harry Riccobene, Peter Casella, Antonio Pollina and future boss Angelo Bruno. His rap sheet included arrests for assault and battery, carrying concealed weapons and attempted murder. He owned and operated out of the "Philly Bar" located at 2026 S. 12th street, Phila., Pa.
Rugnetta was believed to be the boss of the Calabrian faction of the Philadelphia mob and was recognized by law enforcement as a powerful figure in the mafia in the Philadelphia area and an old enforcer who was a referee in settling disputes and was heavily involved in loansharking. Rugnetta was the first known Consigliere of the Philly mob, a position he gained in 1936 under boss Joseph Bruno. In 1962, mobster Dominic "Reds" Caruso allegedly slapped Rugnetta in the face over a dispute and Angelo Bruno ordered his murder. On January 30, 1962, Caruso was killed by Bruno family soldier Nicodemo Scarfo.
Rugnetta retained the rank of family Consigliere until his death of natural causes in 1977. He would be succeeded as Consigliere by a violent capo known as "Tony Bananas", Antonio Caponigro.