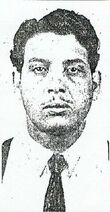 Joseph James "Scotty" Spinuzzi (born January 19, 1909- died 1975) was the boss of the Denver crime family from 1969–1975.
Biography
Spinuzzi was born in Pueblo, Colorado and became a member of the Denver LCN family under crime boss James Colletti. He was a close associate of infamous Denver mobsters Eugene and Clyde Smaldone. Some indicated that former Colorado bosses Charlie Blanda and "Black Jim" James Colletti found it difficult to keep Scotty under control and felt he brought unwanted publicity to the Colorado organization. Blanda frequently lamented that "Spinuzzi was often a problem as his subordinate tended to be a "very volatile, loose cannon". Spinuzzi owned the Coffee pot cafe and was a partner in the Five Queens night club. Spinuzzi, along with other mobsters, controlled gambling and other rackets in Pueblo, Colorado. During the 1950s, he allegedly began trafficking in narcotics and drug distribution in Colorado but was unsuccessful and discontinued this illicit business venture. His arrest record included Prohibition law violations, receiving stolen property, safe cracking, burglary and charges of extortion in Las Vegas, Nevada. He once served an 18 month stint in prison for burglary and was also once convicted of income tax evasion along with his brother Anthony "Tony the Turk" Spinuzzi.
During the 1960s Spinuzzi reportedly operated a large scale bookmaking operation in Pueblo. He became the boss of the Denver family after the death of James Colletti in 1969. In 1971, a Colorado Task Force of "The National Council on Crime and Delinquency" listed Spinuzzi as the head of organized crime in the state. "Scotty" Spinuzzi, was once infamously acquitted of a murder charge "because no one saw the bullet leave the gun". Joseph Spinuzzi died of natural causes in 1975 and was succeeded as boss by Eugene Smaldone, ushering in the era of the Smaldone crime family.