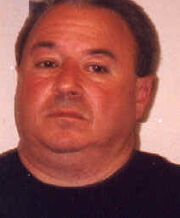 Joseph "Joey Flowers" Tangorra (born August 2, 1949) is a soldier in the Lucchese crime family and a former capo of the "Bensonhurst Crew." In 1992 he and another mobster named Lester Ellis were putting the squeeze on a debtor when Ellis accidentally shot Joey in the back. After this Tangorra suffered a number of resultant ailments. In September 2000, Tangorra was indicted along with acting boss Steven Crea, capo Dominic Truscello and other members of the Lucchese Construction Group on labor racketeering charges.
In November 2000, Tangorra was again indicted along with soldier Joseph Truncale and was charged with the 1988 murder of Victor Filocamo. In June 2001, his wife Carol Ann Tangorra wrote a letter on behalf of her husband who had been denied bail. In December of that year, he took a plea in exchange for a 16 year prison sentence and admitted to dealing in cocaine for 15 years as well as shooting and seriously injuring Henry Motta over an unpaid debt in 1992. In striking the deal, Tangorra avoided prosecution on two additional murder conspiracies including the 1988 slaying of suspected mob informant Victor Filocamo, who was found stuffed inside the trunk of a BMW parked in Bay Ridge. Prosecutors said that Tangorra had allegedly helped lead the Luchese crime family's Bensonhurst Crew in a reign of terror, using arson, threats of violence and even murder to keep control of their turf.
Whilst in prison Tangorra reportedly began speaking to a prison Psychiatrist complaining of depression and severe panic attacks. He was described by his lawyers as suffering a deteriorating mental condition, being an emotional wreck, and in need of a thorough evaluation. When he was returned to the Metropolitan Detention Center in New York, other inmates taunted him as being a "rat." Federal prosecutors however denied he needed psychiatric attention. Tangorra ultimately served almost 14 years and was released from prison December 9, 2014.