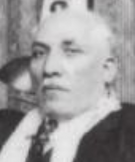 Giuseppe "Joseph" Vallone (born 1885- died on March 18, 1952) was the third boss of the Milwaukee crime family from 1927 until 1949, his reign as boss of the Milwaukee family was second only to Frank Balistrieri's.
Biography
Vallone was an immigrant from the small village of Prizzi, Sicily. Vallone reportedly arrived to New York on October 8, 1907 and from there moved to Milwaukee, Wisconsin where he had an uncle. Vallone worked as a Teamster for the city of Milwaukee. For a time Vallone was reportedly Vito Guardalabene's underboss and a close ally of Pasquale Migliaccio. He succeeded Joseph Amato as the boss of the Milwaukee LCN family upon his death in 1927. During Vallone's reign as boss, The Commission (The National Crime Commission formed by Lucky Luciano and other New York mobsters) was formed and decided that the Milwaukee family would answer to and remain under the Chicago Outfit's power. Vallone retired in 1949 and died from natural causes in 1952. He was succeeded as boss by Salvatore Ferrara.
Community content is available under
CC-BY-SA
unless otherwise noted.