Adolph "Junior" Williams (real name Adolpho Guglielmo, born 1935-died 2016) was a gambling kingpin in the Pittsburgh crime family hailing from Western Pennsylvania - primarily McKees Rocks.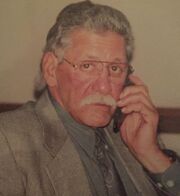 Biography
Groomed in local gangland protocol by legendary independent Pittsburgh crime lord, Tony Grosso, the city's gambling chief in the neighborhoods of the East End, the Hill and McKees Rocks, Williams and his brothers Eugene and Salvatore, became Grosso's top lieutenants – as young men, they had worked in the steel mills. Junior Williams was Grosso's go-between with the area's traditional Italian mafia, guys like soon-to-be boss Michael Genovese and capos Antonio Ripepi and Anthony (Wango) Capizzi. Genovese took over as Godfather of the Pittsburgh mafia in 1985, around the same time Grosso was ensnared in a racketeering indictment that wound up sending him to prison. Grosso's incarceration opened the door for Williams, backed by Genovese, to take his place as boss of the rackets in the East End, the Hill and McKees Rocks.
While Grosso shared his prolific portfolio of political, judicial and police contacts with the Pittsburgh mafia, he kept his independence by not paying tribute to longtime don and Genovese-predecessor Sebastiano (Big John) LaRocca. When Williams assumed the mantle of power he changed things up and came under the Genovese syndicate banner. Reporting to Capizzi and receiving muscle from Genovese-dispatched enforcers Robert (Bobby I) Iannelli and Paul (Paulie No Legs) Hankish – the representative for the Pittsburgh mafia in West Virginia -, Williams solidified his standing by placing his own men in key territories to watch over his affairs.
The Williams crew itself was based out of the East End, stationed in a pair of front businesses, Guglielmo Jewelers and Sugar's Deli (building owned by Antonio Ripepi), where they headquartered their robust numbers bank and wrote hundreds of policy bets a day. Junior Williams sent his brother Eugene and an associate named John Deep to hardscrabble McKees Rocks to run the lucrative 900 Club (also known as the McKees Rocks Social Club), a mobbed-up gathering spot and gambling den.
Junior Williams was a suspect in the unsolved murder of retired McKees Rocks' police officer Martin Fitzpatrick. Fitzpatrick had just left the 900 Club when he was ambushed, being strangled and dragged by the bumper of a car. According to numerous informants, this was due to Fitzpatrick's past dispute with Pittsburgh underboss and New Kensington overlord, Kelly Mannarino. Mannarino had supposedly left instructions before he died to wait for Fitzpatrick to leave the police force, and then to kill him.
Death
Adolph Williams died in 2016 at the age of 82. At the time of his death, Williams was a suspect in at least three gangland murders in McKees Rocks; Streets Commissioner James Goodnight, retired police officer Martin Fitzpatrick, as well as informant Robert Mancini.
Community content is available under
CC-BY-SA
unless otherwise noted.