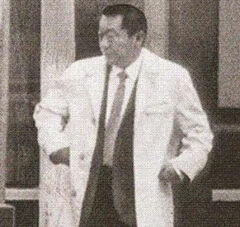 Ken Eto (October 19, 1919–January 23, 2004), also known as Tokyo Joe and "The Jap", was a Japanese-American mobster with the Chicago Outfit and eventually an FBI informant who ran Asian gambling operations for the organization. He was the highest-ranking Asian-American in the organization and is also notable for his extraordinary survival of a murder attempt.
Biography
Eto was born in California to a highly disciplinarian father. During World War II, Eto was interned at Minidoka War Relocation Center, and was arrested in 1942 for violating wartime curfew at the camp. In 1949 he moved to Chicago, where he set up an illegal gambling racket known as "bolito" and was managing up to $150,000 to $200,000 a week, including $3,000 a week payoffs to corrupt Chicago police.
Eto's gambling operation was eventually uncovered by the FBI, and Outfit capo Vincent Solano was afraid that Eto would turn government witness. On February 10, 1983, a few weeks prior to sentencing on his gambling conviction he was invited to a dinner meeting. Afraid he was going to be shot, he took a bath and put on his best suit before heading out for the meeting. As he was sitting in a parked car, hitmen Jasper Campise and John Gattuso fired three shots into his head; however, the bullets had only grazed Eto's skull. After regaining consciousnesses, he dragged himself into a local pharmacy and called "911". The 911 recording was played on WBBM-TV with the call taker demanding to speak to Eto and then asking him if he could drive himself to a hospital. Eventually, a Chicago Fire Department ambulance was sent for him. Their failure to kill Eto was blamed on an insufficient amount of powder in the bullet cartridges. The two gunmen had packed their own ammunition to reduce their chances of being traced to Eto's murder.
Eto agreed to turn informant for the FBI and entered the Witness Protection Program. On July 14, 1983, about five months after the unsuccessful hit, the bodies of Eto's would-be killers were found in the trunk of a car strangled to death in suburban Naperville, Illinois. The FBI stated after the failed murder attempt, they went to Campise and Gattuso and offered to place them in Witness Protection if they testified who ordered the killing, but both stated that they were in no danger. Eto testified in court against his former mob partners and helped put away 15 Outfit mobsters and their associates, including corrupt police officers.
Ken Eto died in Georgia in January 23, 2004 at the age of 84, living under the name Joe Tanaka. He left behind six children.
Community content is available under
CC-BY-SA
unless otherwise noted.