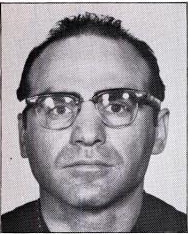 Louis Cirillo Snr. was a New York mobster and drug trafficker associated with the Genovese crime family.
Biography
Cirillo was born in New York in 1924. He maintained he was a bagel baker, at Midtown Bagel Bakery in Manhattan, earning $200 a week, and lived in the Bronx, at 2907 Randall Avenue. His employer later admitted that "he couldn't bake a bagel if he had to." Louis had a son, Louis Jr., who joined him in a life of crime.
Cirillo was one of Vincent Papa's suppliers of drugs. According to The Bureau of Narcotics and Dangerous Drugs (known today as the DEA,) Cirillo, during 1970 and 1971, was probably the biggest drug dealer in New York. A man with a fearsome reputation for violence, he once bit out a man's Adams apple during a fight, and the word in the underworld was that "when Louis did a number on a victim, you had to leave the room." He was allegedly, Papa's major heroin supplier. He was also believed to have been a leading heroin supplier to notorious African-American drug dealer Frank Matthews.
Downfall
He was arrested in Miami in January 1972, after a jury trial in the Southern District of New York, he was found guilty on two counts, and sentenced to two concurrent terms of 25 years imprisonment. Apart from his claim to fame as a drug dealer, he is also linked, in an apocryphal way, to the murder of Thomas Eboli, the alleged boss of the Genovese crime family in the early 1970s. It is quite possible that Cirillo was a soldier in the Mafia family headed by Eboli. It is also possible that he was related to Genovese consigliere Dominick "Quiet Dom" Cirillo.
Eboli it was claimed, raised $4 million from various mob bosses, including Carlo Gambino, to purchase drugs through Cirillo. When the drug dealer went down in 1972, agents digging up the back garden in his home in the Bronx, discovered $1,078,100, which it was assumed was some of this mob cash. When Gambino demanded his share back, and Eboli reneged on the deal, he was killed as punishment. Or so the legend goes.
In October 1972, Cirillo appealed his conviction but was subsequently denied. As detailed in that appeal were the events leading up to and surround his arrest. Which were (that):
The Government's proof relied principally on the testimony of a Frenchman, Roger Preiss, a named, but not indicted, co-conspirator. His role, as he himself described it, was that of "go-between" for French sellers of heroin and for their American buyer. As a party to all conferences and transactions connected with the conspiracy, Preiss was ideally suited to play the role of Greek chorus and narrator of the events in question. His testimony embraced two transactions, one in August, 1971, and another in September and October, 1971.
The evidence revealed a daring plan to smuggle 83 kilograms of pure heroin into the United States by hiding the narcotics behind and beneath the panels and floor board of an automobile, destined to be shipped from France to Canada and from there brought across the border into America. This ingenious, albeit misguided, scheme was the brainchild of a quartet of Frenchmen: Joseph Signoli, the principal seller; Andre Labay, a smuggler; Richard Berdin, a contact man; and Roger Preiss, a close friend of Berdin's. Berdin recruited Preiss to accompany Signoli on a trip to the United States, there to receive and deliver the heroin to Signoli's American buyer.
Preliminary arrangements in Paris occupied the participants' time through much of late spring and the early summer of 1971. By August 10, however, armed with fraudulent passports acquired from a Pigalle hairdresser, Preiss and Signoli departed by train for Frankfurt, Germany. En route, Signoli gave Preiss $2,000 and two telephone numbers and addresses, said to belong to Signoli's buyer. As the government's proof later showed, the numbers and addresses referred to apartments in Miami and New York used by Louis Cirillo.
From Frankfurt, Preiss-travelling under the name Patrick Lorentz-and Signoli-adopting the alias, Yvon Tournied-flew to Montreal where they were met by Michel Mastantuono and his fiancée. After two days in Montreal-to what end the record does not make clear-Preiss, on Signoli's instructions, flew to Miami, where he was joined by Signoli the following day, August 14. Signoli immediately made plans to meet with Cirillo later in the afternoon. Although Preiss was not present at that meeting, while strolling about the city he observed Signoli and Cirillo seated at a table in a Howard Johnson restaurant. Later, Preiss informed Signoli that he had seen Signoli with the American buyer. Signoli then told Preiss that the addresses and telephone numbers he had been given on the train to Frankfurt were Cirillo's. Preiss was told he would soon meet Cirillo and he was cautioned not to mention to Cirillo that he had Cirillo's telephone number.
Shortly thereafter, on August 15, or 16, Preiss did meet with Cirillo. A rendezvous was scheduled for a restaurant in Miami, where Signoli, Preiss, Cirillo and John Astuto, Cirillo's aide, assembled. Signoli introduced Preiss as his "future representative in the United States," and said that Preiss would remain in America for six months. Cirillo, in turn, introduced Astuto to Preiss as a contact man, saying, "when you need to see me, you have any problem for the drugs, you know, in the future, you see this man," pointing to Astuto. A short while later, the four men left the restaurant and went to Cirillo's Miami apartment. There it was agreed that Cirillo would pay $10,500 per kilogram of heroin, with delivery scheduled for New York within the week.
The scheme continued to work smoothly as the conspiratorial group moved north. Preiss and Signoli flew to New York on August 20 and met briefly with Astuto. A day or two later, Mastantuono, the Montreal connection, met with Signoli, Preiss and an unidentified man from Marseilles, in front of St. Patrick's Cathedral on 5th Avenue, and identified a red car parked on the street as the vehicle that had been brought from Canada carrying the drugs. At a coffee shop nearby, Signoli and Preiss then met briefly with Cirillo and Astuto. Signoli told Cirillo that there were no problems and that "everything (was) okay."
The following morning, August 22, at 7:30 A.M., Preiss, Signoli, Astuto, Mastantuono, and the man from Marseilles, drove the car with narcotics to a home in Fort Lee, New Jersey, where the car was placed in the garage. During the next four hours the car was torn apart. With the aid of diagrams produced by Mastantuono, the conspirators located 83 kilograms of heroin, packaged in clear plastic bags of half-kilo weight, and removed them from a variety of hidden recesses in the door panels, under the floor board and beneath the roof. At one point Preiss removed a bag and it tore, with heroin falling to the floor of the car and the garage. After all the heroin had been removed from the car and carried into the house, the men returned to Manhattan. At dinner, with Signoli, Preiss, and the man from Marseilles, Astuto told his companions that Cirillo had arranged a celebration for them that evening. Signoli explained that it was Cirillo's custom to have such parties "after each operation."
The party held in a Manhattan apartment, was not only a social event but an occasion for making important plans for future dealings as well. Astuto, Signoli, Preiss, and the man from Marseilles, arrived at about 11 P.M. Cirillo joined them two hours later and indicated that all of the heroin unloaded from the car was acceptable, including two half-kilo bags over which there had been some concern because of the yellow color of their contents. Cirillo then turned to Preiss and instructed him that future contacts with Astuto would be made indirectly through a third person whose voice Cirillo wanted Preiss to hear on the telephone. A call was then made to Barbara Schmidt, a former girl friend of Astuto's. Astuto told Preiss in Cirillo's presence that he could always be contacted through Barbara.
The eventful day then quickly drew to a close when Cirillo insisted on paying Signoli for the drugs in private. The following day Preiss and Signoli discussed their plans for separation. Preiss informed Signoli that he had decided not to stay in America for six months but would return to Europe in the near future. Signoli assented and gave Preiss $2,000 from a suitcase filled with $100 bills and totaling about $300,000. He also handed him two telephone numbers at which Signoli could be reached in Marseilles. Preiss left the United States two or three days later and eventually returned to Paris.
Roger Preiss testified also to a narcotics transaction spanning the month of September and early October, 1971. Upon his return to France from New York, Preiss was again contacted by Richard Berdin, the man who originally had brought Preiss and Signoli together. Berdin informed Preiss that the ingenious Andre Labay had developed a new and expeditious means of importing heroin into the United States-this time by hiding drugs in special luggage and transporting it from France to America by air. Berdin suggested an initial shipment of 100 kilograms, to be sold to a man named Soderini, Berdin's buyer in America. Preiss was assigned the role of liaison between the French suppliers-Antoine Grisoni and Andre Lajoux-and Labay. Preiss met with Grisoni and Lajoux and arrangements for the supply of heroin were made.
Berdin prepared to leave for the United States to make contact with his buyer, Soderini, but complications soon developed. Labay insisted upon payment for the narcotics on delivery, and Berdin, who had not previously dealt with Soderini, became uneasy, unsure whether Soderini would be able to meet the terms of purchase. Consequently, Berdin asked Preiss if Preiss would arrange to have his own American buyer take the responsibility for purchasing 100 kilograms of heroin. Preiss, having told Berdin that he needed Signoli's prior approval to deal with Cirillo-explaining that Signoli had threatened him with death should he deal with Cirillo without Signoli's consent-then flew to Marseilles where he told Signoli of the 100 kilo shipment. Signoli gave his approval to the sale of drugs to Cirillo, but not without first insisting on a part of the payment for himself.
On October 6, 1971, Preiss met Lajoux and was given the key to an automobile containing 100 kilograms of heroin. Preiss brought the car to Labay who drove it to a small town outside of Paris, where he was arrested by French narcotics agents. Preiss landed in New York on October 7 and, upon his arrival at the Waldorf Astoria, he was arrested. By that time, all the co-conspirators, with the exception of Astuto, who was never apprehended, had been placed under arrest.
Cirillo's grounds for appeal were that, although he had consented to distributing heroin as part of a network involving the other individuals, he had not been aware of the specific shipment for which his co-conspirators had been arrested and was therefore not complicit in the crime for which he had been sentenced. In other words, he had been charged for multiple instances of heroin distribution but had only been proven guilty of one.
In May 1984, Cirillo received an additional 20-year prison sentence for continuing to try to sell heroin from prison, where he had been serving a 25-year sentence for his role in helping to import millions of dollars worth of heroin into the United States by way of France and Canada during the early 1970's (detailed above). The route in question had been part of what became known as the "French Connection", a case which inspired a movie chronicling the elaborate drug-trafficking scheme.
Several months prior, on January 4, 1984, at age 26, his son Louis Jr. had been sentenced to five years for participating in the same scheme his father had been running from his cell. He had pleaded guilty in Federal District Court in Manhattan to charges that he had tried to buy a sample of four pounds of heroin from an undercover agent. Following his release in 1987, Louis Jr. moved to South Philadelphia and married the daughter of Philadelphia Crime Family capo Joseph "Chickie" Ciancaglini. The younger Cirillo had been introduced to Maria after he had served time with her father Chickie in Raybrook, New York.
In December of 1991, Louis Jr's bullet-riddled body was found in the Bronx. The slaying shattered his hopes of starting a new life in South Philadelphia with his bride, Maria. Police found him face down in the trunk of an abandoned brown Oldsmobile sedan in a cheerless neighborhood of boxy public-housing units. He was killed with a single shot in the left temple and then - just to make sure - he was shot twice more, once behind each ear.
The body was not positively identified as that of Cirillo until February of 1992. The previous October he had allegedly gotten an early morning phone call alerting him that he was wanted by the FBI in New York for heroin trafficking. He fled before the Feds arrived and is believed to have turned to his drug dealing partners for help. At which point it's alleged that one of those partners - Alfred "Ratface" Catino eliminated him due to fears that he would cooperate with authorities if arrested. Due to the fact that he was facing a maximum of life behind bars.
Louis Cirillo Sr.'s status is unknown but, due to being aged in his 90s at the turn of the decade, he is almost certainly deceased.
Community content is available under
CC-BY-SA
unless otherwise noted.