Marco "Emzee" or simply, "MZ" Janus (Zanussi) (born April 2, 1963) is a Chicago mobster and believed to be the Street Boss of the Melrose Park Crew of the powerful Chicago Outfit.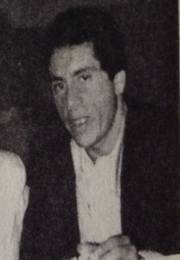 Early Life & Family
Janus, who grew up on Chicago's South Side in the 70s, was surrounded with crime at a young age, even appearing in the criminal record as young as 17. His family origins is Northern Italian on his father's side, and Sicilian on his mother's side. He got the nickname "MZ" because his real last name is Zanussi, (hence Marco Zanussi) something that was changed to Janus in order to be Americanized when his grandfather, Lino Zanussi, came to America. When Marco became an adult, he changed his last name back to Zanussi, although close friends still sometimes refer to his last name. His father owned a trucking company in Round Lake, Illinois, called Kell-Stan Trucking. He is the middle child of two brothers, David and Vincent, and he was born to Stanley and Kathleen Janus.
Criminal History
In 1989, at the age of 26, it is believed that he was made an official member of the Chicago Outfit, becoming a Soldier in the Melrose Park Crew. He was well known for his ability to dodge criminal convictions, having been indicted three times, and never being sentenced, until 2010. He was credited with many robberies throughout Chicago in the 90s. Despite being 58 years of age, informants within the Outfit claim that Janus is a key button-man to alleged boss Salvatore "Solly D" DeLaurentis.
In 2010, Janus was sentenced to twelve years in prison for conspiracy to commit murder. The FBI reports that Janus was planning to kill a lower-level member of the Chicago Outfit for disrespecting him in a prior meeting, confidential informants claimed that he wanted him to "go on a vacation for a while", which is usually code for killing someone. The night before the planned murder, Janus was arrested by the FBI in Elmwood Park on a tip by a confidential informant. The FBI did not let the murder take place, in an attempt to turn Janus into an informant, which worked out very poorly. In October of 2020, he was released from prison and credited time served, and is now under parole until October of 2022. As of 2021, he resides in an upscale home in an upper-class neighborhood of Melrose Park, Illinois.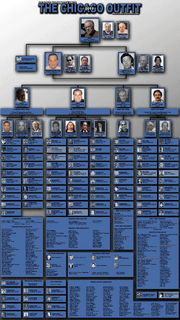 Janus was, and is a suspect, along with Michael Sarno and Joseph Andriacchi, in the unsolved 2006 disappearance of high-ranking Chicago mobster Anthony Zizzo. The Chicago Sun Times has publishes multiple articles on Janus, although most have been taken down due to Janus' lawyers claiming "defamation", "harassment" and "slander".
He has relatives that reside in Philadelphia, and is known to have strong ties with the Philadelphia crime family.
Community content is available under
CC-BY-SA
unless otherwise noted.