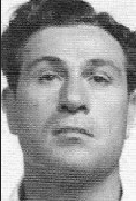 Marshall Caifano (July 19, 1911 – September 6, 2003) was a high ranking member of the Chicago Outfit. He changed his name to John Marshall when he moved to Las Vegas, where he was The Outfit's representative or capo over this area.
Early years
Born Marcello Giuseppe Caifano. During the mid-1920s, Caifano joined the 42 Gang, a Chicago street gang, with future Outfit members such as Willie Bioff, Samuel Battaglia, and Salvatore "Momo" Giancana. By 1929, Caifano's rap sheet included convictions for burglary, extortion, larceny, and interstate fraud. As he matured, Caifano followed other 42 Gang members into The Outfit. During this period, Caifano was considered a prime suspect in the murder of gambler Frank Quotrocci after police discovered a hat at the crime scene with the initials "M.C." It was later accepted, however, that Outfit boss Al Capone committed this murder.
Las Vegas boss
Caifano would eventually establish autonomy from the Outfit for his Uptown gambling operations. He was suspected in about ten unsolved homicides, including those of disgraced Cook County sheriff's investigator and suspected Outfit informant, Richard Cain, oil tycoon Raymond J. Ryan, and cocktail waitress Estelle Carey. In 1941, the Outfit had suspected that Carey, the girlfriend of mobster Nick Circella, was cooperating in the federal investigation of the Outfit's scheme to extort money from the Hollywood movie studios. When authorities discovered Carey's body, it appeared that she had been tied to a chair, savagely beaten, then set afire.
Following the death of his brother, Leonard "Fat Lennie" Caifano, in 1951, Caifano was made overseer of mob-controlled casinos in Las Vegas. Caifano had a wife named Darlene Caifano who was from outside of Louisville. It is said that Caifano traded the "blonde-haired bomb shell" to the Godfather of the Chicago Mob, Sam Giancana, a childhood friend of Caifano's, for the "Don" chair of Las Vegas. Caifano was a suspect in ten or more Mafia slayings during this time, including the 1953 murder of Louis Strauss which was actually committed by Los Angeles hitman Jimmy "the weasel" Fratianno. Caifano was also an associate of Los Angeles capo Louis Tom Dragna.
In 1971, Anthony Spilotro succeeded Marshall Caifano as the Mob's representative in Las Vegas.
Arrest and imprisonment
In March 1980, Caifano was arrested in West Palm Beach for transporting stolen securities from Illinois to Florida in 1975. Those 2,000 shares of Westinghouse stock, worth $2 million, were stolen from O'Hare Airport in Chicago in 1968. On May 23, 1980, a federal judge in Miami sentenced Caifano to two concurrent sentences of 20 years at the federal penitentiary in Sandstone, Minnesota. He was released from prison in 1990.
Caifano died in 2003 of natural causes.
In popular culture
In the TV series "Vegas," the character Vincent Savino (played by Michael Chiklis) is based on Caifano.