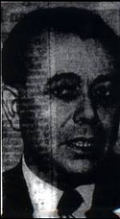 Michael Abati (born January 5, 1900 - died September 5, 1962) also known as "Mr. Mike" and "Mr. Bud", was a Sicilian-American mobster and boss of the San Francisco crime family.
Biography
Abati was born in Monte San Giuliano, Trappani, Sicily, his parents were Antonino and Maria Abati (nee Scudera). It is not clear when he immigrated to the U.S. He first resided in Pennsylvania but later moved to the West Coast and took up residence in San Francisco, California, where he became a member of the San Francisco crime family. His rap sheet included arrests for armed robbery, violation of interstate commerce and murder amongst others in both Pennsylvania and San Francisco. His legitimate occupation was that of manager of the Oro olive Company based in Oroville, California and owned by brothers Anthony and James Lanza. Abati and his wife were possibly separated as she lived in Castellammare del Golfo, Sicily. Amongst his close associates were Lanza, Philip Maita, Alphonse LaRocca, Mario Balistreri and Anthony J. Lima. Abati was a known as a longstanding member of the Mafia in the Bay Area involved in racketeering and crimes of violence.
Abati became the boss of the San Francisco crime family in 1953 after Anthony Lima was sent to prison. He was one of many Pennsylvania crime figures who migrated west. Abati was a suspect in the 1947 murder of Nick DeJohn. DeJohn's body was found strangled to death in a car parked on a San Francisco street. He allegedly killed DeJohn because he began invading gambling and narcotics rackets belonging to the San Francisco mob. Eventually all charges were dropped. During his tenure as boss he attended the raided mob summit known as the Apalachin Conference in upstate New York in November of 1957 along with his underboss James Lanza. Abati was one of many mafia figures who were picked up by the authorities for suspicion. As a result of this he was deported back to Italy on July 8, 1961.
Abati was renowned for his political connections and his business holdings. He reportedly died 14 months after being deported to Italy at the age of 62.