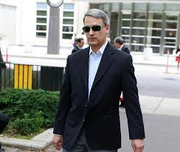 Michael Persico (born 1957) is an alleged associate of the Colombo Crime Family. He is the son of Colombo boss Carmine Persico and the brother of former acting boss Alphonse Persico. According to informant Greg Scarpa, Michael was inducted as a made member in the 1980's, though other sources refute this.
Background
For many years, Michael Persico was the only son of the official boss of the crime family, Carmine (Junior) Persico, who was not charged with mob crimes. He lived in Dyker Heights, Brooklyn with his two daughters, near the mansion held in the name of his grandparents Carmine Sr. and Susan Persico.
Michael Persico denied numerous claims that he was involved with the Colombos and says that he is only a hard-working legitimate businessman. He has owned or co-owned several restaurants and Romantique Limousines, a Brooklyn car service company. The real estate tied to these businesses has, at various times, been pledged as bail guarantees for various members of the Persico family. After Michael Persico's conviction and imprisonment, several of these businesses were transferred to others.
Michael is owner of the Blue Mountain Manor, "a guest house and banquet facility" in the Town of Saugerties, in Ulster County, New York as well as multiple rental properties in the Saugerties area. He was a member of the local Chamber of Commerce. (Blue Mountain Manor was previously described as "a hide-out and arsenal" used by the Colombo family during a raid in 1972.)
Devine Murder
In the early morning hours of January 24, 1992, Michael Devine, a Staten Island night club owner, was shot to death after he drove his car into the garage of his apartment. According to once feared Colombo enforcer Frank Sparaco (Frankie Blue eyes), who turned rat, Devine was killed because he was having an affair with Teresa Persico, Alphonse Persico's wife.
Sources claim that Alphonse dragged his brother Michael into the Devine murder plot during numerous tape-recorded telephone calls he made to Michael from his prison cell in Milan, Michigan. It is believed that he told Michael to pass the order to kill Devine to family associates. Devine's body was found riddled with bullets, including two gunshot wounds to the groin area, which were a sign that Devine was killed because he had been intimate with the spouse of a member of La Cosa Nostra.
Trucking Shakedown
In May 2010, Michael, his cousin and Colombo Capo Theodore Persico Jr, and several other associates were charged with using a trucking company they controlled to shake down the Testa Corporation, a Boson-based excavating company involved in the Ground Zero cleanup for untold hundreds of thousands of dollars in kickback payments in recent years. Both Persicos secretly met with other top wise guys from New York to Boston as they used threats of violence and economic harm to line their pockets with cash. Both Theodore and Michael face racketeering charges that could keep both behind bars for the rest of their lives. This is Michael Persico's first arrest.
Vending Machine Scam
In 2010, Michael Persico also became the focus of a federal grand jury probe into one of the oldest of mob scams: the placement of candy and soda machines. His vending machines were allegedly part of a secret business deal he has involved with mob-run car dealerships.
Plea Deal
In 2012 just before his trial for racketeering and multiple murders included in a sweeping indictment back in 2010, was set to begin he cut a deal with the feds to plea to loansharking charges. Persico avoided being formally charged with ordering the rubout of a Colombo member, Joseph Scopo, a mobbed-up concrete-union official, in 1993. during a war for control of the family.
In September 2014, despite the deal drastically reducing Michael Persico's punishment exposure, he sought to void his plea deal as the Feds sought a punishment higher than guidelines. The following November, his request was denied.
Uncharged Criminal Conduct
In the penalty phase, prosecutors filed a Sentencing Memorandum listing several uncharged criminal acts committed by Michael Persico, showing his participation in the Colombo Family's business. Though these were not formally charged, prosecutors only needed to meet the preponderance of evidence standard to have these acts considered for sentencing.
Prosecutors used cooperators' testimony and corroborating photographs to establish that Michael Persico was part of the racketeering enterprise through the following acts
Participating in the conspiracy to murder Joseph Scopo by holding meetings where the murder was planned, and providing a murder weapon through a Colombo Family associate nicknamed "Smiley."
Loansharking, by providing money to for Colombo loansharks to put on the street
Extortion through threatening a potential competitor to a valet parking business run by Michael Persico and his codefendant Anthony Preza.
Providing a bus garage he owned for a stolen shipment of video games.
Other Evidence of Michael's Involvement with the Colombos
In his debriefings as an informant, the notorious capo Gregory Scarpa, Sr. repeatedly told the FBI that Michael Persico was a made member of the Colombos. Scarpa also noted that Michael Persico discussed Colombo business with his uncle Teddy at a Freeport, Long Island restaurant owned by members of the Gambinos.
Legendary Colombo captain John Franzese (Sonny) was once caught on tape by an undercover informant praising the approach to the mob lifestyle used by Michael Persico saying "He don't have to be a goodfella, he is doing different kind of work".
Information from former Colombo mobsters turned rat including alleged capo Carmine Sessa indicated there was also an illegal side to Michael's legitimate businessman public profile. Sessa said Michael supplied his brother Alphonse with 100 thousand dollars to help the Persico faction in the 1990's during the deadly Colombo family civil war.
People Killed by Michael Persico
1). Joseph Scopo/ Colombo Capo/ Scopo was killed because he was a member of the rival faction during the third Colombo war.
2). Michael Devine/ Staten Island night club owner/ Devine was killed because Alphonse Persico was angry that he was sleeping with his wife.
References
https://hudsonvalleyone.com/2017/07/31/prison-bound-crime-family-scion-is-saugerties-businessman/
https://www.nytimes.com/1972/04/25/archives/four-men-and-a-woman-arrested-at-alleged-hideout-of-colombo-family.html
http://www.huffingtonpost.com/jerry-capeci/feds-probe-love-story-mob_b_461265.html
http://www.huffingtonpost.com/jerry-capeci/feds-mob-prince-a-sweet-t_b_497256.html
http://www.huffingtonpost.com/jerry-capeci/feds-probe-mob-prince-in_b_507381.html
http://aboutthemafia.com/another-colombo-family-persico-set-for-prison
http://nypost.com/2012/06/09/colombo-boss-son-takes-jail-over-hit-trial/
http://www.nydailynews.com/new-york/nyc-crime/son-colombo-crime-boss-guilty-plea-removed-article-1.1940903
https://www.courtlistener.com/recap/gov.uscourts.nyed.301653/gov.uscourts.nyed.301653.846.0.pdf
https://vault.fbi.gov/gregory-scarpa-sr/gregory-scarpa-sr-part-06-of-08
Community content is available under
CC-BY-SA
unless otherwise noted.