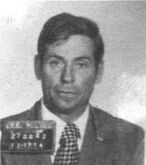 Michael "Mickey" Spillane (July 13, 1934-May 13, 1977) was an Irish-American mobster from Hell's Kitchen, New York. Spillane, who was called the "last of the gentleman gangsters", was a marked contrast to the violent The Westies gang members who succeeded him in Hell's Kitchen.
Biography
As a young boy in Hell's Kitchen, Spillane started as a numbers runner for various organized crime figures in his neighborhood. In 1960, Mickey took over the rackets left to him by his predecessor Eddie McGrath, the waterfront racketeer and longshoreman's union leader. He married Maureen McManus, the daughter of the Democratic district leader Eugene McManus.
The late actor Bobby Spillane remembered the days his father ran the rackets. Mickey walked around in $5,000 suits into restaurants where everybody knew him. Heads would turn and people would say things like "Hey, you know who that is? That's Mickey Spillane!" Because there was an actor also named Mickey Spillane, the gangster Spillane was once asked during a trial if he had any relations to the actor. Spillane denied it, but joked that he would be willing to trade places.
Though Italian Mafia dominated organized crime in the city, the Irish Mob had long operated in Hell's Kitchen since the days of John Morrissey. The Italians allowed Spillane to operate on the West Side as long as they got their cut. As retribution for their hostile takeover, Spillane would kidnap members of the Italian Mafia and hold them for ransom. Although he ran the rackets such as gambling, policy, and loansharking, he was against the sale of drugs in his neighborhood and wouldn't allow it.
In 1966 a young upstart named Jimmy Coonan attempted to take the neighborhood from Mickey, muscling in on his territory and murdering a Spillane underling. Ultimately, Coonan was sent to prison in 1967. When Coonan was released from prison, he sought to align himself with the Gambino crime family through an up and coming capo from Brooklyn named Roy DeMeo.
The 1970s saw an increased threat from the Genovese crime family, as Tony Salerno sought control over the soon to be built Jacob K. Javits Convention Center. Since the Convention Center was located on the West Side, Spillane stood his ground against the takeover by the Italians. Salerno responded by hiring an Irish-American hitman named Joseph "Mad Dog" Sullivan to assassinate Tom Devaney, "the Butcher" Edward Cummiskey and "the Greek" Tom Kapatos, three of Spillane's chief lieutenants. By the mid 1970s Spillane had moved his family out of Hell's Kitchen to Woodside, Queens, for fear for his safety.
On May 13, 1977, Mickey Spillane was killed outside his apartment in Woodside, Queens. It has long been rumored that Roy DeMeo murdered Spillane as a favor to Jimmy Coonan, who subsequently took over as the boss of the Hell's Kitchen Irish Mob.
Ironically, Spillane was born and died in the same years as Danny Greene (1933 and 1977 respectively).
Community content is available under
CC-BY-SA
unless otherwise noted.