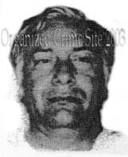 Michael Zaffarano (1921 – February 14, 1980), also known as "Mickey" or "Mickey Z", was a capo in the Bonanno crime family who worked in the pornography industry.
Biography
Zaffarano handled porn theatres and national porn film distribution for the Bonanno family. He owned several pornographic movie theatres in Times Square in Manhattan and around the country. Zaffarano's office was in Times Square on the upper floor of The Pussycat Theatre located at 1600 broadway and 49th street. The Pussycat showed some of the biggest XXX movies of the 1970's such as Deep Throat. Zaffarano was a portly, heavyset, tall and handsome man with a brooding face. He had dark brown, piercing eyes, a broken nose, and a scar on his forehead.
Bonanno crime family boss Natale Evola in 1972 chose Zaffarano to initiate New York organized crime arbitration efforts with Paolo Violi in Montreal, Canada. Zaffarano had a long history of dealing with disputes and internal mob hostilities. Zaffarano survived the turbulent 1960s. His brother-in-law was Joseph Asaro, a made man in the Bonanno family and a second-generation mobster. Zaffarano's father had worked for Chicago Outfit boss Al Capone while Capone was still living in Bensonhurst, Brooklyn. Zaffarano eventually got caught up in the FBI investigation into illegal hardcore pornography in New York City. He was a mentor to gambino crime family caporegime Robert DiBernardo who ran the gambino pornography rackets and was closely associated with Gambino family capo Ettore Zappi in Florida.
On August 2nd, 1975 Zaffarano allegedly traveled to Los Angeles to murder Jacob Molinas. He was convicted of bribing New York basketball players and Molinas had told authorities that he was working for the Bonanno crime family so his death was ordered to prevent him testifying.
On February 14, 1980, Zaffarano died of a heart attack while evading FBI agents trying to arrest him. Anthony Mirra later became capo of his crew.
Community content is available under
CC-BY-SA
unless otherwise noted.