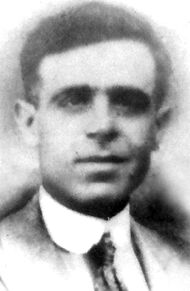 Nicolò Terranova (1890 – September 7, 1916), also known as Nicholas "Nick" Morello, was one of the first Italian-American organized crime figures in New York City. Along with his half-brother Giuseppe Morello and brothers Vincenzo and Ciro Terranova, he founded the Morello crime family, and was later one of the participants in the Mafia-Camorra War of 1914–17.
Biography
Terranova was born in Corleone, Sicily in 1890 to parents Bernardo Terranova and Angelina Piazza. In 1893, Terranova emigrated from Sicily with his family, including his brothers Ciro and Vincenzo, arriving in New York on March 8, 1893. In 1903, Nicolo's sister Salvatrice Terranova married Ignazio "Lupo the Wolf" Saietta, who was running the Black Hand organization in Little Italy, Manhattan. Lupo went on to become underboss of the Morello crime family. In 1910, when Lupo and Giuseppe Morello were arrested for counterfeiting, Terranova, now known as Nicholas Morello, became the boss of the Morello crime family.
In 1915, Brooklyn Camorra leader Pellegrino Morano began moving in on the Morello family's Manhattan territory of East Harlem and Greenwich Village after a Neapolitan ally of the Morello family, Giosue Gallucci was killed in East Harlem. In 1916, members of the Morello family killed Camorra member Nick Del Guido. Soon after a peace conference was called between the two warring groups, but Morano refused Morello's offer and open warfare continued. The war between New York's Sicilian Mafia and Neapolitan Camorra lasted for over two years.
Death
On September 7, 1916, Nicholas Morello and his bodyguard Charles Ubriaco were killed by Morano's men outside Vollero's Cafe, a local Navy Street restaurant in Brooklyn. Morano, Vollero, and several underlings were soon arrested, and in 1917 they were all convicted of Morello's murder. With Morano and top members of the Camorra sentenced to life imprisonment the war ended soon afterward and the Neapolitan Camorra was assimilated into the Sicilian Mafia by 1919.
Nicolo and his three brothers lie in bare graves in Cavalary Cemetery in Queens, New York, not far from Joe Petrosino, who investigated them, or other Morello crime family members, such as Ignazio "Lupo the Wolf" Lupo.
Aftermath
After his death Nicholas Morello was replaced by his half brother Vincenzo Terranova as the boss of the Morello crime family, with other half brother Ciro serving as underboss.