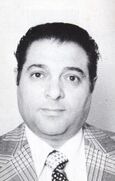 Paolo Violi (February 6, 1931 - January 22, 1978) was the successor of Vincent Cotroni during the mid 1970's and led the families Calabrese faction against the opposing Sicilian faction led by Nicolo Rizzuto.
Biography
Paolo Violi was born as one of 7 brothers in Sinopoli, Italy. The family moved to Hamilton, Canada, in the 1950's. Paolo and his brothers soon became affiliated with local gangs and got themselves into a life of crime. In 1955 he murdered a man named Natale Brigante after a dispute. He was charged with manslaughter but escaped conviction after he proved it was in self defense by showing a knife wound he got out of the fight. During the early 1960's Violi went to Montreal and got associated with the Cotroni Family. Frank Cotroni appointed him to lead a counterfeiting ring and to smuggle liquor from Montreal to Ontario. In 1965 he married the daughter of Ontario boss Giacomo Luppino, strengthening the family ties. Fellow Hamilton mobster John Papalia was the godfather to one of Violi's children. During the 1970s he spent more and more time with Vic Cotroni, the family boss, and became his second in command. When Cotroni retired he chose Violi to become his successor.
War against Nicolo Rizzuto
Violi's successful career however was about to be put on hold as troubles were growing between the Cotroni family (mainly Calabrese) and the Rizzuto family (mainly Sicilian). The one he was after was Nicolo Rizzuto, who moved to Venezuela during that period to live with members of the powerful Cuntrera clan of Sicily. A couple of Bonanno crime family members, such as Michael Zaffarano, were sent to Montreal to end the dispute, but nothing was worked out. Violi demanded a sanction against Rizzuto for retaliating against him, but because of Rizzuto's strong ties to Sicilian boss Giuseppe Settecase and the Cuntrera-Caruana clan, the Bonanno's started to have second thoughts. Eventually they stopped their backings for Violi and gave Rizzuto the green light to end the dispute.
In February 1976 Violi's adviser Pietro Sciara was murdered while leaving a movie theater. Violi's brother Francesco also met his end one year later by Rizzuto gunmen. Violi himself stayed out of range because he was jailed at the time, serving a contempt term. After his release however he was a marked man. On January 22, 1978, he was shot dead during a game of cards in a café owned by 2 Sicilians. After his murder the Rizzuto crime family took the lead in Montreal's criminal life and absorbed the leftovers of Violi's family in time to come. In 1980 a third and last Violi brother, Rocco, was shot dead by a sniper while he was reading the newspaper.
Community content is available under
CC-BY-SA
unless otherwise noted.