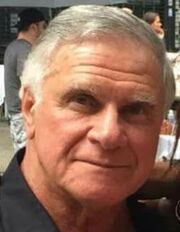 Pasquale "Patsy" Parrello
(born 1944) is a capo in the
Genovese crime family
. He ran his crew out of Pasquale's Rigoletto on Arthur Avenue in The Bronx. On December 5, 2001, he and Genovese captains Rosario Gangi and Joseph Dente, Jr. were charged with extortion, robbery conspiracy, gun trafficking, loan sharking, labor racketeering and embezzlement, credit card fraud, trafficking in untaxed liquor and cigarettes, gambling and counterfeiting. In 2003 he was sentenced to 88 months for racketeering.
In August 2016 he was indicted as part of a large scale racketeering case along with fellow Genovese captain Eugene "Rooster" O'Nofrio and Joseph "Skinny Joey" Merlino, the alleged leader of the Philadelphia crime family. He subsequently pleaded guilty to extortion and on September 7, 2017 he was sentenced to seven years in federal prison — six months longer than the deal he'd brokered when he agreed to a plea. Federal judges, however, were not required to follow sentencing recommendations negotiated between prosecutors and defense lawyers. During his plea hearing that may many supporters had packed a Manhattan federal courthouse to cheer him on and he reportedly smiled and thanked everyone for coming. Parrello's family members and friends had also penned more than 40 supportive letters attesting to his character, but Manhattan Federal Judge Richard Sullivan wasn't swayed by the aging mobster's purported kindness and generosity and upped the agreed upon sentence due to his previous racketeering conviction and his refusal to change his ways after being given a second chance.
Pasquale was indicted for ordering the beating of a panhandler who harassed female patrons by his Arthur Avenue eatery. Genovese soldiers Ronald " The Beast" Mastrovincenzo and Buddy Torres carried out the beating later heard describing the experience as a game of baseball. Parello seeks to avenge the death of his son Pasquale Parello Jr. as he was murdered out of revenge during a altercation that turned physical at Pasquale's Rigoletto. Gambino consigliere' Frank Locascio's son Salvatore was being loud and obnoxious.  Parrello warned Locascio to tone it down and when the up-and-coming mobster didn't listen, Parrello slapped him in the face. That settled the score for that night. In the Mafia, such violent acts of disrespect are met with an even more violent response to set the matter straight once and for all.On April 23, 1993, Parrello's 24-year-old son Pasquale Jr. was shot to death. In Albanian gangster named Victor Mirdita was apprehended near the crime scene and charged with the murder. He was part of an Albanian crew which allegedly was close to the Gambino family and the Locascios.
Community content is available under
CC-BY-SA
unless otherwise noted.