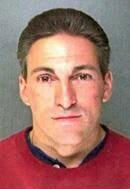 Patrick "Patty" Dellorusso, also known as Patty "Red" Dello Russo, is the current acting underboss of the Lucchese crime family. Dellorusso is a longtime member of the old Vario crew from Brooklyn. On February 5, 1989, Dellorusso along with Louis Daidone and another associate shot and killed Lucchese associate Thomas "Red" Gilmore on the orders of boss Vic Amuso, who had become suspicious of Gilmore being an informant. In February 1991, Dellorusso along with Tommy "Red" Anzeulotto murdered Larry Taylor who was a close associate of former Lucchese soldier Bruno Facciola. In early 1991, Amuso transferred Patty Dellorusso, a soldier in charge of running the airport rackets from Al D'Arco crew into Anthony Baratta's crew. In September 1991, during Alfonso D'Arco declaration he told the federal government that Patrick Dellorusso was the head of Lucchese family's rackets in the air-freight industry. D'Arco also stated that Dellorusso controlled Lucchese family associate Anthony Razza who has served as the secretary-treasurer of Local 851. Dellorusso is a former shop steward at Local 295, and a former labor relations director for the Amerford International Corporation, an air-freight company.
In 1993, Dellorusso was indicted along with Anthony Calagna on money laundering and witness tampering chargers. The indictment stated that Dellorusso along with others were involved in union corruption involving air freight companies in New York and Chicago; the group extorted three Teamsters locals; two in New York local 295 and local 851 and the third was local 705 in Chicago. Dellorusso was also accused of conspiring to murder a Lucchese associate, Vladimir Jadick, who had cooperated with law enforcement officials. Dellorusso was later barred by the courts to any membership to the national teamsters administrator's.
In May 2019, law-enforcement agents stated that Patrick "Patty" Dellorusso became the family's new acting underboss in 2017, when imprisoned boss Vic Amuso changed the family's leadership. During the May 2019, testimony of government witness John Pennisi it was revealed that in 2017, Dellorusso instructed Pennisi to reach out to Amuso's son-in-law Joseph DiBenedetto about sending a message to his father-in-law Amuso. Dellorusso wanted the message sent to Amuso to inform Amuso that he and Michael DeSantis were ready to takeover the leadership of the family after Matthew Madonna and Steven Crea were arrested. When Pennisi went to speak to his friend Joseph DiBenedetto about the message for Dellorusso, he learned that Eugene Castelle was requesting a message sent to Amuso about Castelle's own ability to take over the leadership of the family. Pennisi learned that Dellorusso sent a letter to Amuso in prison and received a letter back with Amuso's approval for Dellorusso and DeSantis to takeover the administration positions. Pennisi stated that if Amuso's orders where not followed Amuso had approved of murdering a number of Bronx faction members.