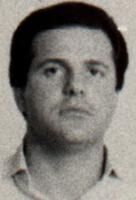 Patrick 'Patty' Testa a.k.a. "Patty Tasta" (March 11, 1957 – December 2, 1992) was a New York gangster in the violent DeMeo crew of the Gambino crime family before transferring to the Lucchese Family. He was the brother of Gambino mobster Joseph Testa and New York Police Department police officer Salvatore Testa.
Biography
In 1971, Testa joined Roy DeMeo's crew, which specialized in stolen cars. The crew was suspected of between 75 to 200 murders, but none were ever linked to Testa. In the early 1980s, Testa was indicted on charges of transporting stolen vehicles across state lines. He pleaded guilty and received only one year in prison during to his youth.
On January 10, 1983, Roy DeMeo went to Testa's garage for a meeting of his crew, but disappeared afterwards. Eight days later, DeMeo's body was found in a car trunk with several bullet wounds to the head.
Law enforcement speculated that Testa's brother might have participated in the shooting, but did not suspect Testa directly.
In 1984, Testa was indicted on fraud and theft charges. In 1985, Patrick pleaded guilty prior to trial and was sentenced to two years in prison. In 1987, Testa transferred from the Gambino crime family to the Lucchese crime family. He joined a crew headed by reputed Consigliere Frank Lastorino. Patrick was close to many members of the crime family's hierarchy; he often ferried messages between them while they were fugitives. Testa later served as a courier for imprisoned Lucchese boss Vittorio Amuso.
Murder
On December 2, 1992, Patrick Testa was in the garage of his used car lot in Brooklyn when a gunman approached him and fired into his head and back nine times, killing him. There are several theories as to why he was murdered. Authorities believed at the time that Testa was murdered by the Gambino family in retaliation for the Lucchese car bombing of Gambino member Frank DeCicco.
However, it was strongly suspected that Lucchese underboss Anthony Casso ordered Lastorino to kill Testa because Casso was unsure of Testa's loyalty. In 1999, the New York Daily News reported that Casso spread the story about the Gambinos killing Testa, when in fact Lastorino did it.
The purpose of this ruse was to justify a mob killing of Gambino mobster John A. "Junior" Gotti. The purpose of this plot was to strike at Gambino boss John Gotti, who was in prison. However, Anthony Casso was arrested a month later and the plot to kill Junior Gotti fizzled.