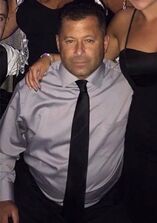 Pete "Scarface" Cataldo (October 13th, 1970) is a New York mobster and a soldier in the Genovese Crime Family. Pete is the son of Genovese caporegime Augie Cataldo, a nephew to wise guys, Carmine Romano, Vincent Romano, Peter Romano, Dominick Cataldo, Joseph Cataldo, Alfonso Cataldo, and cousin to Carmine Russo.
Early Life
Pete was born in Brooklyn, New York, but grew up on the streets of Staten Island. While growing up he was raised around top mafia figures his entire life, it was only inevitable he would become a "wise guy". Pete was the son and nephew of very high ranking members in one of the most powerful families in New York til this day, the Genovese Crime Family. His father Augie Cataldo, a dominant Captain in the Family, who was well known for his ruling down at the Fulton Fish Market. Augie, nicknamed "Crazy Augie" was labeled by the government as a "Stone Cold Mafia Killer" during his trial in the late 70's. Pete was also the nephew of now deceased Genovese capos, Carmine Romano, Peter Romano and Vincent Romano. Pete also looked up to his uncle Dominick Cataldo, who was a made man in the Colombo Crime Family, and uncle, Luchese Capo, Alfonso Cataldo, who was Dominic's brother. Dominic Cataldo was known to be very tight with mob boss John Gotti.
Activity
In the early 80's, 90s, Pete was connected with the mob activity down at the Fulton Fish Market with his father Augie, Uncle's, Carmine, Peter and Vincent, and cousin Carmine Russo. Cataldo, despite being the son and nephew of very powerful Genovese bosses, held his own and built quite the reputation for himself. Pete is now known to have a big connection in Local 731 Laborers Union, located in all five borrows of New York. Pete is well known and liked in the higher ups in the Genovese Crime Family.