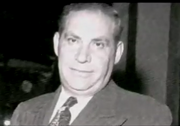 Pietro Corrado (born November 1, 1903- died January, 1957) also known as "Pete" and "Machine Gun Pete", was an early member of the Detroit Partnership during its initial formation.
Biography
Pete Corrado was the head of the Corrado clan which would go on to establish an underworld dynasty within the Detroit Outfit. He was Joseph Zerilli's brother-in-law and one of the first capos of the Detroit mob, and along with Pete Licavoli and "Papa John" Giovanni Priziola led the families original and most important crews. He was given this position in 1931 under the reign of boss William Tocco known as "Black Bill". For over 26 year, he reigned as Detroit's numbers king. As a result of his success in the organizing of the highly lucrative numbers racket Pete was cut in on such profitable legitimate business ventures as the Melrose Linen Service and The Hazel Park Racing Association. The Corrado family also bought and or invested in several other businesses, amoung them them several investment properties concentrated in or around the business districts on St.Antoine, Monroe and Harper Ave's. Peter also dabbled in real estate acquiring a 100 acre farm in Price Ontario Canada which he and his sons often used to entertain visiting business associates away from the prying eyes of Federal, State and local law enforcement officers. This vast empire of crime and business was overseen from the Grecian Gardens restaurant "located at 562 Monroe St.," which was established in the name of his wife Petrina.
Pete Corrado died of a heart attack in January of 1957 at the age of 53, his role as the czar of the numbers racket was passed on to his oldest son Dominic Peter Corrado.