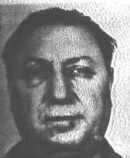 Peter "Petey" Casella (born August 28, 1908- died 1984) was the underboss of the Philadelphia crime family under Philip Testa, he was also the prime conspirator in Testa's death, in his attempt to take over the crime family he was assisted by Frank "Chickie" Narducci and Rocco Marinucci, who both carried out the bombing of Testa resulting in his death and the chance ascension of Nicodemo Scarfo to gain leadership of the Philly mob. He is the brother-in-law to John A. Capello who was identified as the "operator" of the J&A Food Market
Biography
Casella was born in St. Louis, Missouri. His rap sheet included larceny, lottery and homicide. Casella was once imprisoned for violation of narcotics laws and sentenced to 40 years in prison. He was a lieutenant of Philadelphia capo Marco Reginelli. He was released after serving 17 years of his 40 year sentence, just in time to bid for the boss position of the Philadelphia crime family after the murder of Angelo Bruno in 1980. He was a popular figure in the family who was deep in narcotics; which contradicted the image of Bruno.
Casella was made underboss by Philip Testa after his ascension to the top spot in the Philly mob in an attempt to pacify the chaos within the family. Less than a year into his reign as crime boss, Testa was killed by a bomb planted under the front of his house on March 15, 1981. Testa allegedly saw himself as an old world Don and as a charismatic leader, while others perceived him as a thuggish brute and desired to overthrow him and take over the crime family. Casella has always been the prime suspect in the murder of "The Chickenman" Testa.
After Testa's murder Casella declared that he was named the new boss of the Philly mob with the approval of the New York families, Nicodemo Scarfo did not believe his story and missed the funeral of Phil Testa to travel to New York where he found out that Casella had lied, after this was revealed Casella immediately fled Philadelphia because he was also known for being a bomb expert and was now a marked man for allegedly participating in the unsanctioned murder of the family boss.
As a result of their treachery, Casella's close associates and co-conspirators, Frank Narducci and Rocco Marinucci were both killed for their involvement in the murder of Testa. They were allegedly murdered by Testa's son Salvatore Testa, who after his father's murder actively seeked revenge on those responsible.
Casella was also marked for death but relocated to Florida where he was living with his daughter. He was never brought to justice for the murder of Testa and died of natural causes in 1984.