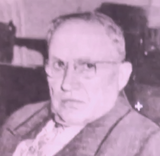 Pietro DiGiovanni (June 28, 1886 - date of death unknown) also known as "Sugarhouse Pete" or "Pete" was the first underboss of the Kansas City crime family from 1912 - 1950. He was the brother of "Joe Scarface" Joseph DiGiovanni.
Biography
Pete along with his brother Joe engaged in Black Hand extortion within the Sicilian and Italian communities in Kansas City. During the Great War, Joseph and Pietro, with their two other brothers, Paolo and Vincenzo, ran a wholesale grocery business while also engaging in black market ventures.
After the First World War, Joseph and Paolo DiGiovanni entered into a bootlegging partnership with James Balestrere and later founded a wholesale liquor business. Pietro remained an influential figure in Kansas City organized crime until his death of natural causes. In later years he was considered 'retired' and due to advanced age discontinued his involvement in the rackets but was still viewed as a Director of the mafia in the Kansas City area.
His date of death is unknown.