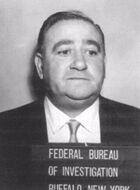 Peter Magaddino (February 25, 1917 - August 1976) was a mobster in the Buffalo crime family and the son of crime boss Stefano Magaddino, Magaddino was a caporegime in the family and possibly underboss.
Early years
Early in his criminal career, Peter married the niece of prominent Western New York businessman and Buffalo crime family consigliere John C. Montana.
In 1940 he opened a funeral home with Paul Palmeri. When Palmeri left Niagara Falls in 1942. Peter took over operation. He already had one college degree and now went to mortuary school and became a licensed funeral director. He ran the Magaddino Memorial Chapel, a funeral home in Niagara Falls, New York.
Magaddino was involved in the kidnapping of Joe Bonanno along with his uncle, Antonio Magaddino among others. According to Bonanno, he was held captive in Upstate New York by Stefano. Magaddino claimed to represent the Mafia Commission when he told Bonanno that he "took up too much space in the air", a Sicilian metaphor for being arrogant. Bonanno allegedly convinced the Magaddinos that he would retire and Stefano released him.
Family conflict
In 1967, Buffalo underboss "Freddie the Wolf" Frederico Randaccio was arrested and sent to prison. According to former FBI agent Joe Griffin, author of the book Mob Nemesis, Peter was appointed by his father to fill the gap and run the day-to-day activities. However, many believe that capo and future acting boss, Joseph Fino, was named underboss in 1968. It is possible that Peter was named acting underboss until Fino got the permanent job later. In either case, many top family members believed that Peter didn't deserve the job.
By the 1960s, many Buffalo family members viewed Stefano as a paranoid and greedy leader who could no longer be trusted to lead the family. In late 1968, the situation worsened when Stefano told his capos Salvatore Pieri, Fino, and Daniel Sansanese that he was cutting their percentage of the family profits and, worse yet, eliminating their Christmas bonuses. Stefano claimed that money was tight; however, that argument wasn't too convincing as Stefano was grossing between $20,000 to $30,000 weekly on his personal sports book.
Breakup
Due to unexpected intervention by the FBI, resentment over Stefano and Peter Magaddino within the family came to a head. In November 1968, Peter and Stefano were arrested and charged with interstate bookmaking. While searching Peter's home in Niagara Falls, the FBI uncovered nearly $500,000 in cash inside a bedroom wall. When the rest of the Buffalo crime family learned about the hidden money, it provoked an internal rebellion.
Before the year was done, the Buffalo family had split into several dissident factions and the Magaddino's were effectively deposed.
Peter Magaddino remained a loyal member of his father's faction until Stefano died on July 19, 1974. Peter then quietly removed himself from the family's criminal activities. He died on August 16, 1976.