Peter C. Monteleone (Born on 08-18-26 Died On 07-15-91) was a New York mobster in the Bonanno Crime Family.
Early life
Born in Manhattan, NY, Peter was raised in the lower east side Knickerbocker Village private housing development into a poor family. From a very young age Pete was stealing from the push carts and hanging out with very well known criminals such as Carmine Galante,Gerard Chilli,Angelo Presenzano and Benjamin Ruggiero.
World War II
When Peter was 18 Years old he was drafted into WWII and was shot twice in the back and became a disabled vet and collected money every month.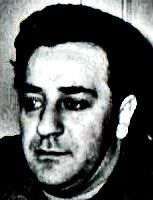 Made Man
In The Late 1960's Peter Monteleone Became A Made Man In The Bonanno Crime Family In Angelo Presinzano's Crew.
Arrests
In June 1970 During LCN Control Act the FBI was giving out subpoenas, Peter knew he was next in line so he was living temporally living at his sisters house. One day he went home and he was in the bathroom shaving and the FBI knocked at the door. Pete had his shaving cream on so they could not tell if it was him or not, the Agents then went down to their car and looked at his Mug Shot to positively identify him. Peter ran up to the roof and jumped to the other building and almost escaped but, they caught him. He was incarcerated for 30 days and charged $250 alongside Angelo Lapi.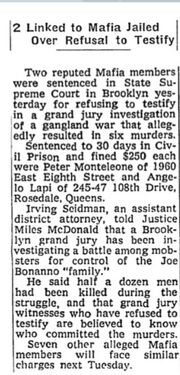 Death
Peter Died on July 15, 1991 Of A Heart Attack He Aged 64.
Relationship with Carmine Galante
Peter was very close with former "Boss" Carmine Galante and reportedly was going to be Peter's son's Godfather but Galante was sent to prison that year.
External links