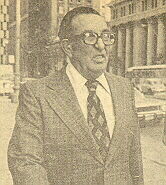 Peter "Bozzi" Vitale (died 1997) was a longtime soldier and influential member of the Detroit Partnership.
Detroit Partnership
Vitale and his older brother Paul were prominent mobsters in the Detroit Partnership. His brother Paul was a vice boss who controlled the highly popular Greektown district in Detroit, Michigan. Peter however, was the more infamous of the two brothers.
He was the Father-in-law of Joseph Barbara, Jr.. Along with Barbara, Jr. and his brother Paul, he formed Tri-County Sanitation, leading the Detroit mafia into the City's sanitation industry. Under this company the Detroit outfit would gain a monopoly over the refuse business that would last for the next 30 years. Vitale was made a capo of the Detroit crime family in the 1970s and died of natural causes in 1997.