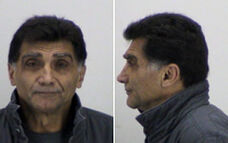 Ralph Francis DeLeo (born 1943) is a Massachusetts based Capo in the Colombo crime family. He was the Colombo crime family Street Boss from 2008-2009.
Biography
Ralph F. DeLeo was born in Jonesboro, Arkansas in 1943 and not much is known about his early life. He was sentenced to 25-40 years in state prison at Walpole,Massachusetts for kidnapping and armed robbery when he escaped in 1977. He was convicted of killing an Ohio doctor in 1977 while he was a fugitive and sentenced to 15 years to life.
In the early 1990's he was serving time in a federal prison for murder when he met Colombo acting boss Alphonse Persico. they became close friends and when DeLeo was from prison in 1997 he inducted into the Colombo crime family and became a made man.
He moved to Sommerville, Massachusetts in the early 2000's and became a capo. DeLeo's main businesses were drug trafficking, extortion, loansharking and racketeering. He based these operations in Massachusetts, Rhode Island, New York, his home state of Arkansas and Florida.
In 2008 Alphonse Persico handpicked his friend DeLeo to become the new Street Boss of the Colombo crime family replacing Thomas Gioeli who was indicted on robbery, extortion and murder charges.
On December 17, 2009, the FBI charged DeLeo and Colombo family members with drug trafficking, Racketeering, extortion and loansharking in Massachusetts, Rhode Island, New York, Florida and Arkansas. Andrew Russo then took over the Colombo family after DeLeo's arrest, becoming Street Boss.
On November 21, 2012 Ralph F. DeLeo plead guilty to racketeering and illegal possession of a firearm. He was sentenced to 19.5 years imprisonment.
Community content is available under
CC-BY-SA
unless otherwise noted.