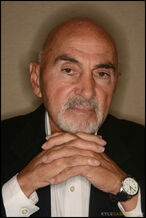 Ralph Natale is a former American mobster. He was the leader of the Philadelphia crime family from 1995 until 1999. He became the first American Mafia boss to turn state's evidence.
Biography
Described by himself as a friend of former Philadelphia boss Angelo Bruno, Natale's mob association began when he became boss of the bartenders union Local 170 in Camden, allegedly running it on Bruno's behalf. Natale' associates included Charles Allen, Raymond Martorano, Albert Daidone, Frank Gerace, Frank Vadino and Felix Bocchicchio.
In 1977 he and Charles Allen were responsible for the "arson for profit" of Libra Designs Inc. in Pennsauken New Jersey and A&C Cold Cuts in Oaklyn. He was also involved in a fraud of an equipment leasing company.
In 1979, Natale was convicted of firebombing a furniture store in an insurance fraud scheme and sentenced to 12 years imprisonment. The following year he was convicted of smuggling and distributing cocaine in Florida and received a 15 year sentence.
Natale was released on parole in 1994. He was initiated into the faction of the Philadelphia family led by Joseph Merlino during the latter's power struggle with boss Giovanni Stanfa. Upon Stanfa's 1994 arrest Natale began to assume the duties of boss while Merlino, concerned over attention from law enforcement, took the position of underboss. Merlino's associates would later describe Natale as primarily a front boss for Merlino.
In June 1998 Natale was jailed for parole violation when the government proved his continued association with Philadelphia mobsters; Merlino subsequently took control of the family and cut off support to the imprisoned boss. Angered by this, Natale offered to secretly record conversations with Merlino, but it was not until September 1999, when he was indicted for financing drug deals, that he formally struck a deal to cooperate.
Natale testified against Merlino during his 2001 racketeering trial, but was unable to secure a conviction for the murders he alleged Merlino committed.
In 2005 Ralph Natale was sentenced to 13 years imprisonment. He was released in May 2011 and is in witness protection.