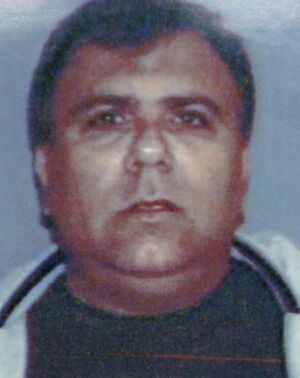 Ralph Scopo II (Born 1949 – Died October 2013) was a veteran hitman for the Colombo Crime Family. Scopo's father, Ralph Scopo Sr., was a gangster who died in prison and his brother, Joseph Scopo, was whacked during the Colombo family civil war.
Criminal Career
Scopo was the former president of Local 6A and an officer of the District Council of Cement and Concrete Workers. Both unions were described by the government as "tools of organized crime". In 1987 Scopo and his brother Joseph Scopo were forced to give up their positions after the major racketeering trials involving the Colombo family and the Mafia's ruling commission. Both brothers were barred permanently from the unions.
In 2006, Scopo was convicted of racketeering and attempted to get out of his sentence by claiming that he had less than two years to live
According to organized crime expert, Jerry Capeci, Ralph Scopo II. and the Colombo crime family still ran the union, and stole from its members on a regular basis, through his son Ralph Scopo III, and a host of associates.
2011 Mob Round-up and Death
In 2011 the FBI rounded up more than 100 mobsters and associates in New York and New Jersey. This included Gambino capo Bartolomeo Vernace, Colombo acting boss Andrew Russo and underboss Benjamin Castellazzo, and Gambino consigliere Joseph Corozzo. Scopo was among those arrested and was charged with extorting coffee errand-runners of the Cement and Concrete Workers Local 6A.
During the trials, Scopo claimed he was suffering from liver failure and thus was too sick to stand trial on extortion charges relating to the Cement and Concrete Workers Union Local 6A
Scopo was confined to his Long Island home under electronic monitoring with leave for doctor visits and to exercise in a swimming pool at the gated community where he lived.
On October 8, 2013 Scopo died at the age of 63 of liver and heart failure. His death made him the only gangster from the massive sweep to escape conviction.
References
http://www.nydailynews.com/new-york/mobster-ducks-jail-heart-failure-article-1.1485741
http://www.nydailynews.com/news/national/license-ill-whiny-wiseguy-article-1.1199820
http://www.huffingtonpost.com/jerry-capeci/25-years-later-jailed-maf_b_806373.html
http://bitterqueen.typepad.com/friends_of_ours/2012/11/feds-prematurely-crow-victory-over-mafia.html
http://www.nytimes.com/1993/10/22/nyregion/man-tied-to-crime-family-is-shot-to-death-in-queens.html
Community content is available under
CC-BY-SA
unless otherwise noted.