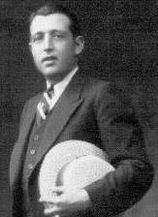 Raymond Porrello (Jun. 13, 1892 - Feb. 25, 1932) was a Prohibition era gangster and early member of the Cleveland crime family.
Biography
Raymond was one of the seven Porrello brothers who immigrated to the United States from Licata, Sicily. The Porrello's operated together with the Lonardo brothers with whom a bloody gang war would later be fought for control of the Cleveland rackets.
On December 5, 1928, Joseph Porrello, leader of the Porrello crime family, invited high level American Mafiosi from across the country to a meeting at the Statler Hotel in Cleveland to declare him the official Mafia boss of Cleveland. Raymond became Joseph's underboss, a position he would hold within the crime family for just over a year.
On July 5, 1930, Joseph Porrello was invited to a sitdown with Frank Milano where he and an underling were shot dead. Raymond was then deposed as underboss by the new Milano regime. Three weeks later Vincenzo "Jim" Porrello was also murdered and Raymond Porrello vowed to seek revenge. On August 15, 1930, an explosion leveled Raymond's home, he was not home at the time. But he too would eventually fall victim to hitmen's bullets when he was Killed in 1932 along with his brother Rosario, effectively ending the Porrello brother's influence in the Cleveland underworld.