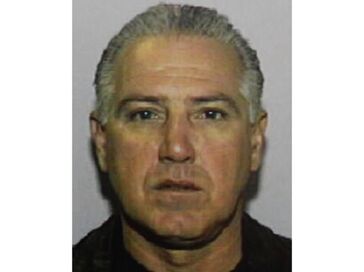 Reynold "Ren" or "Reynolds" Maragni (Born 1952) is a former capo for the Colombo Crime Family who turned informant.
Criminal Career
In the 70's, Maragni dabbled in loansharking, beat downs and passing messages for the Colombos before moving to Florida for new crime opportunities. While in Florida, he was busted for a scheme that netted him $100,000 by using bogus credit cards to buy three-day passes to Disney World. The scam put Maragni on capo Thomas Gioeli's radar. Upon his release from jail, Maragni was rewarded with a supervisory position of Colombo associates in the Florida crew. Gioeli would later induct Maragni into the family. Maragni also allegedly supervised a Colombo crew in Florida.
In June 2000, he was charged with gambling, extortion and money laundering. Authorities claim that he was part of a group that pulled in as much as $2,000 a day in the three prior years. He was also accused of bribing corrupt Florida driver's license examiners to provide him with fraudulent licenses for his associates. Maragni was sentenced to two years in federal prison, three years of probation and a $5,000 fine after pleading guilty to gambling-related racketeering in Fort Lauderdale in September 2000. He was released from prison in September 2002.
2011 Mob Round-up
In 2011 Maragni and more than 100 other mobsters in New York and New Jersey were arrested in a historic Mafia take down by the FBI.
He was accused being involved in a racketeering conspiracy with several other men in 2002 to 2011. In South Florida, he was charged with extorting a North Carolina man in September 2010 by using threats of physical injury to get loans from the man. He was also charged with traveling to bribe a public servant in Florida. In New York, Maragni was involved in extortion by obtaining labor union positions, wages and other benefits from the Cement and Concrete Workers Union Local 6A in New York. And he was charged with participating in a money laundering conspiracy linked to illegal gambling in New York, extorting loans and property from several unidentified individuals, possession and sale of contraband cigarettes and conspiring to distribute marijuana.
He was granted bail after claiming he suffered from three different types of cancer and needed treatment that the federal lockup in Brooklyn could not provide.
Informant
After he was sprung, Maragni had second thoughts about fighting the extortion and loansharking charges that he was facing and quickly agreed to turn federal witness in exchange for a lighter sentence. He began wearing a hidden wire and taping wise guys in New York and Florida while supposedly on medical visits.
While wearing a wire in his watch, he gathered damaging evidence from reputed soldier Vincent Manzo Sr. outside Macy's department store in Brooklyn linking the Colombo Crime Family's former acting boss, Thomas Gioeli, to the gangland murder William Cutolo.
He also recorded information that implicated the reputed Colombo consigliere Thomas Farese and associate Pat Truglia in money laundering charges in South Florida. Maragni secretly recorded them agreeing to launder $40,000 of his illicit cash. Farese would later be acquitted of the charges.
In 2012, Maragni took the stand and provided key testimony at the trials of former boss Thomas Gioeli and Colombo associate Francis Guerra. Both gangsters were acquitted of murder charges.
On March 10, 2014, Maragni was sentenced to 45 days in prison for getting caught committing crimes at the same time he was making secret recordings of mobsters for the FBI. He was involved in marijuana trafficking, extortion and money laundering. Maragni admitted that he was secretly passing messages to mob associates when he turned off his recording device during mob sit-downs. As a result he was also kicked out of the witness protection program
References
Community content is available under
CC-BY-SA
unless otherwise noted.