Richard "Richie Nerves" Fusco (Born 1936-Died December 19, 2013) is the former consigliere of the Colombo Crime Family.
Background
Fusco was considered one of the last remaining members of the old guard with in the Colombo family and a dying breed of old school mobster. He was a staunch ally of Persico during the bloody Colombo war in 1991-93 and served 14 years in prison for his efforts in the intra-family violence.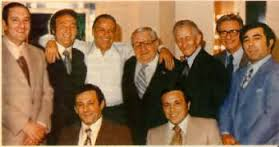 In 2008, Fusco took over as consigliere for the Colombo family as a favor to long-time pal and imprisoned Colombo boss Carmine Persico after then acting boss Thomas Gioeli and underboss John Franzese were charged with racketeering.
2011 Indictment
In January 2011, the FBI carried out a series of raids that amounted to the biggest single-day US operation against the Italian-American mafia. The FBI indicted more than 100 suspected members and associates from all five of New York's Mafia families as well as New Jersey's DeCavalcante family. This included several suspected top leaders of the Colombo family, including Fusco (who was the consigliere at the time), street boss Andrew Russo, and acting underboss Benjamin Castellazzo.
Fusco pleaded guilty to a shakedown scheme designed to cover another mobster's medical bills after a stabbing. He faces 18-to-24-months in prison.
During his trial Fusco said that he shouldn't go to jail for shaking down a rival crime family because he had numerous maladies and less than a year to live. His lawyers claimed that he suffered from Prostate cancer, three heart attacks, Kidney failure, Claustrophobia, Depression, and early onset of Alzheimer's.
On November 8, 2012, Fusco was sentenced to four months in a prison hospital for an extortion conviction. Fusco, who would have served two years, had his sentenced reduced because of his multiple medical maladies.
Death
In December 19, 2013 Fusco, after completing his four month sentence, died at the age of 77.
References
Community content is available under
CC-BY-SA
unless otherwise noted.