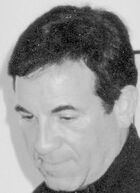 Ronald M. Fino (born June 1, 1946, Buffalo, New York) is a former mob associate and noted FBI and CIA undercover operative. He is the son of former Buffalo crime family capo Joseph Fino.
Biography
Fino was born in Buffalo, New York. His father Joe rose through the ranks of the Buffalo Mafia under long-time mob boss Stefano Magaddino, attaining the rank of capo, overseeing his own crew. Ron joined the corrupt Laborers' Local 210, controlled by Magaddino, and after years of experiencing the corruption up close, decided to run for business manager and clean up the union. After an overly successful election, he found that the power did not lie with the union, but powerful members of the Buffalo Mafia.
Not long after he made the dangerous decision to become a contract employee for the FBI and for 17 years reported everything he learned about the Buffalo crime family back to them. After his cover was corrupted he went to work undercover in Russia, the Middle East, Belarus and was in the middle of international arms negotiations and tried to broker peace in Gambia after a coup ousted their president.
Ron has been around the world and has had his cover nearly compromised numerous times. Fino has taught at FBI Academy in Quantico, VA, the CIA in McClain VA, worked in Moscow, Russia, Toronto, Ontario, Washington. DC, Las Vegas, Cleveland, Chicago, New York City, Boston, and Buffalo, NY.
Fino would later go onto to testify before Congress regarding Mafia control and corruption in the Laborers' International Union, as well as about the Russian mafia and the illegal shipments of weapons to terrorist organizations. Now living in the United States, he is married to a well known Russian artist Alla (Boulynko) Fino, whom he met in 1992 in Germany. He has a close association with the Putin Administration. He has testified in numerous criminal cases in Cleveland, Buffalo, New York, Newark, Las Vegas, Detroit, Los Angeles, Chicago, Toronto, Canada regarding organized crime.
Fino currently works as a Private Detective in Williamsburg, Virginia.